Every tech tip you need to master working from home
Whether it's your kid making an unannounced cameo on a video conferencing call or trying to get the dog to be quiet for an early morning meeting, working from home comes with a unique set of challenges.
Of course, these challenges are nothing compared to those directly confronting the coronavirus pandemic. But it's fair to say that anyone who ever wanted to work from home didn't quite expect it to turn out like this.
At Hana, we're dedicated to building spaces where people can accomplish great things. And in today's work world, a big part of accomplishing anything means having the right technology and tools you need to tackle the job at hand.
For anyone working from home, here are 10 tech tips to help make your workdays simpler and more productive.
1. Change your email signature
It might seem obvious, but as Joanna Stern at the Wall Street Journal points out: "You know where you aren't reachable right now? That landline sitting in your corner office — er, cubicle."
Make sure to update your work email signature with a suitable phone number and any other places people can reach you. You may also want to consider adding in a note above your signature saying you're working from home, if you're speaking with clients.
To change your signature in Outlook, select File > Options > Mail > Signatures. In Gmail, go to your settings and select signatures. 
2. Block off your work email calendar
In lieu of casual face-to-face conversations, your coworkers may end up overloading you with meeting invites. And since most digital meetings last at least 30 minutes, you might find your calendar a little more, well, full than normal.
Here's a simple tip: Block off your calendar with "meetings" to give yourself time to get work done. And feel free to block off your after-work hours too to reclaim some of your work-life balance.
In Outlook, you can either set yourself up with an appointment — or you can schedule a one-on-one meeting with yourself. In Gmail, you'll follow a similar process. (Gmail also lets you set "working hours," which you can tweak by going to your settings.)
3. Take control of your notifications
All those Slack messages, email notifications, text messages (hello Mac users), Facebook messages … they can be pretty distracting, to say the least. And when you're on a video call sharing your screen? They can get downright embarrassing.
Your best bet: Just turn them off. On Apple computers, hit the three lines in the top-left side of your screen and select "Do Not Disturb." On Windows PCs, you can hit the "Action Center" icon on the taskbar notification area and turn on "quiet hours," which will stop notifications from popping up. 
Just remember to turn your notifications back on when you're done so you don't miss something important.
4. Get your Wi-Fi up to speed
Wi-Fi: It's both an unmistakable modern convenience and a frequent source of stress when connections drop, the internet cuts out, or things get slow. And that's especially true when everyone's at home and using the Internet at the same time. 
You have two solutions here: Plug in directly with an Ethernet cable for faster speeds or move your router to a more central place in your home. "Choose the faster 5GHz network, if possible," Stern recommends in the Wall Street Journal.
And if none of that works and your router is just old, think about investing in a new router. The technology has gotten markedly better on the consumer markets and newer routers have much better range — and much faster speeds. 
5. Practice safe video chatting 
With everyone using Zoom and other video conferencing apps now for everything from family meetups, fitness classes and social get-togethers, it's easy to forget that these apps are also pretty critical at the office — especially when everyone's working from home.
But with this widespread usage, new security concerns have taken on new prominence with numerous reports of "Zoombombing," or people jumping on calls to stir up trouble.
There are a few ways to avoid this. For one, you should always set a password for your meetings, which you can do when you send out an invite. You'll want to avoid using your personal meeting ID and opt for a randomized meeting link, which providers like Zoom will create for you.
And another tip? Have some fun using virtual backgrounds to hide whatever corner you're stuck in at home.  
6. Mute your mic & block out background noise
Another video conferencing tip that's really just good etiquette: When you're not speaking, mute your microphone. Especially if you're typing out some notes (which might just sound like you started banging a hammer against your computer to your colleagues).
But here's another neat tip: There are apps like Krisp (which works on macOS and Windows 10 and integrates with Zoom and other chat apps) that use artificial intelligence (AI) to block out background noise. According to Stern, Krisp works well enough to block out the sound of a barking dog — and a crying toddler, too.  
7. Turn your phone into a scanner 
You might not have ready access to a scanner in your home office — but that's not an issue if you have an iPhone or Android. From the built-in scanner function in iOS's Notes app to free apps from Adobe that work well on Android and iOS, you have plenty of options to turn your phone's camera into a high-powered scanner.
Take a look on the Google Play Store and App Store and you'll find options from Adobe, Luni and others. Just remember to read the privacy policies to be extra safe.
8. Get a new printer 
Printers. Just about everyone's had a moment in life where they've wanted to reenact that scene from Office Space (see below).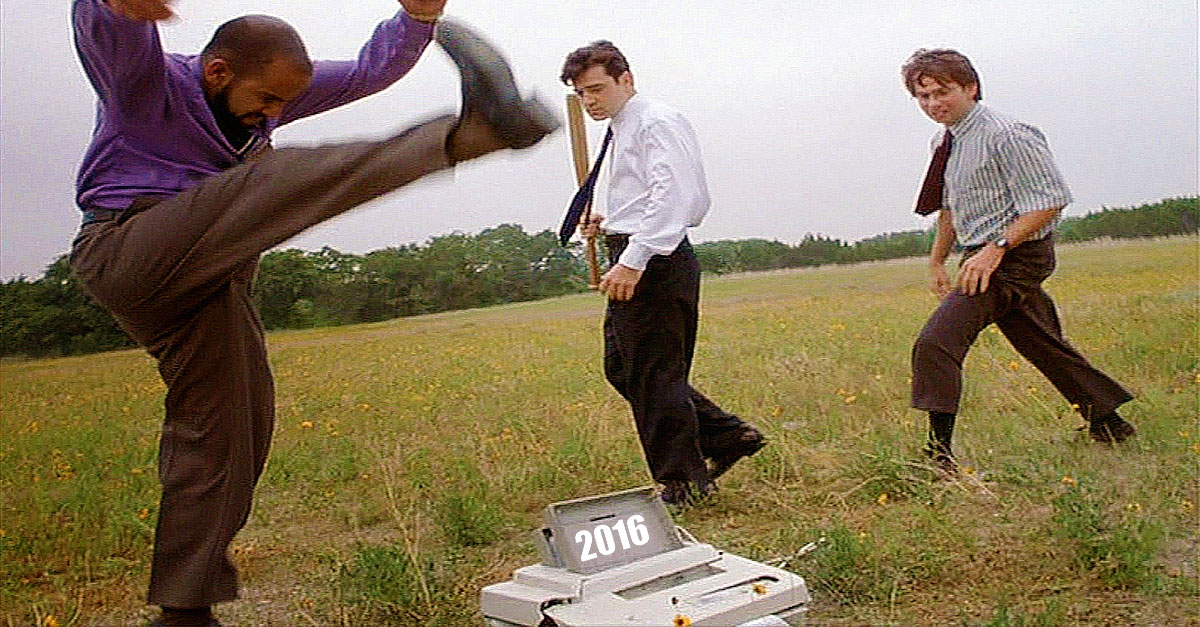 Image credit: Office Space
But at your home office, a printer can be a pretty important piece of equipment. Especially if your alternative approach is going to the local FedEx store to pay a few bucks a page.
Luckily, you can get a pretty good printer for a decent price these days. Wirecutter recommends one from Brother that is simple, fast and one of the best laser printers you can buy  — all for about $100.
9. Invest in a computer monitor  
One of the biggest thing we miss about the office? All that extra screen space. While working all day on a laptop is fun, a bigger screen to work on is its own reward.
And today, you can get a pretty great monitor for between $100-$200. Digital Trends recommends the Samsung 24" SF354 that runs for $130. But no matter which monitor you get, remember to make sure you have the right dongle to connect it to your laptop (like an HDMI-to-USB-C connector).
Another thing to consider: A monitor arm. According to Andrew Kao, Hana's VP of Product & Experience Design, monitor arms — or even just a book to perch your monitor on — make a huge difference. "Monitor arms are fairly inexpensive these days and are a great way to improve your overall comfort," he says. "Even something as simple as a laptop stand can improve your setup." 
10. Make sure you have the basics
When you're working from home, the last thing you want is to find yourself hunched over a laptop for eight hours at a time. And that's something that's completely avoidable with a couple low-cost additions to add surround your computer monitor.
We're talking, of course, about a computer mouse and keyboard, two easy ways to move off the laptop and get a little more comfortable. Depending on what you get, a mouse can run from $6-$50 and a keyboard can run from $15-$100. 
"With a laptop, you're always resting your wrists on the laptop — and it's not super comfortable," Kao says. "A mouse helps you avoid a bit of this. I also recommend a Bluetooth mouse because it's more universal by default, which means no extra wires or dongles.  "A keyboard also enforces better ergonomic behavior than just hunching over laptop keyboard all day."
Looking for a better place to work? Explore the workspaces and amenities 1,000+ office workers value most in our white paper, Forget Foosball: People Want a Better Place to Work, Not Play.