Why location is more important than ever in commercial real estate
Don't expect companies to give up their urban offices after COVID-19. 
"Location, location, location" has been a classic maxim in commercial real estate — and for good reason. 
Proximity to transportation, financial centers and talent pools can make or break a commercial real estate investment. 
But amidst the surge in remote work due to the coronavirus pandemic, some are now questioning if location matters as much as it once did in the word of commercial real estate. 
The short answer: Location matters more than ever — and we shouldn't expect companies and professionals to give up their urban offices after COVID-19. 
Below, we'll explore: 
Technology enables remote work — and leaves us dissatisfied with it
As companies were forced to rapidly shift to remote work in response to COVID-19, headlines were quick to declare the office dead and our homes as the workplace of tomorrow.
In some respects, this was an inevitable turn in opinion. 
Over the past decade, even before we were forced to shelter-in-place, technology has increasingly untethered us from the office — and the world around us. 
We can answer emails on our phones at the breakfast table, send Slack messages on our morning commute and dial into video conferencing calls on the way to the airport. With a few well-placed taps, we can order lunch — or get a prescription from a doctor. 
All of this means we don't have to leave our homes to take part in the world outside of it. And if taking part in the economy once assumed we had to physically go to places to work, office professionals and their employers are now largely convinced they can work from anywhere — including home.
But the same technology that allows us never to leave the couch has also conditioned us to expect constant stimulation and variation throughout our waking life. 
"Technology has, curiously, given us the ability to work from home with ease while making it a less than satisfying full-time experience," says Andrew Kao, the Vice President of Product & Experience Design at Hana.
Put another way: Technology has led us to expect instant gratification and those expectations have colored our experiences with the physical world, leading us to seek out places that meet our needs, wants and desires throughout the day.
Why location and workday variation are key
Since the start of the coronavirus pandemic, some people have claimed professionals only lived in urban centers to be close to work — or that without the need to be close to work, many would move away from cities.
"If you think people only live in places like New York City and Boston to be close to work, you're entirely missing the point of living in places like New York City and Boston," says Georgia Collins, the Executive Vice President of Client Solutions at Hana. 
U.S. Census data shows 80% of Americans lived in or near urban centers before the pandemic. While there has been an outbound migration from cities during the coronavirus pandemic, the Pew Research Center found this migration accounted for just 3% of urban dwellers.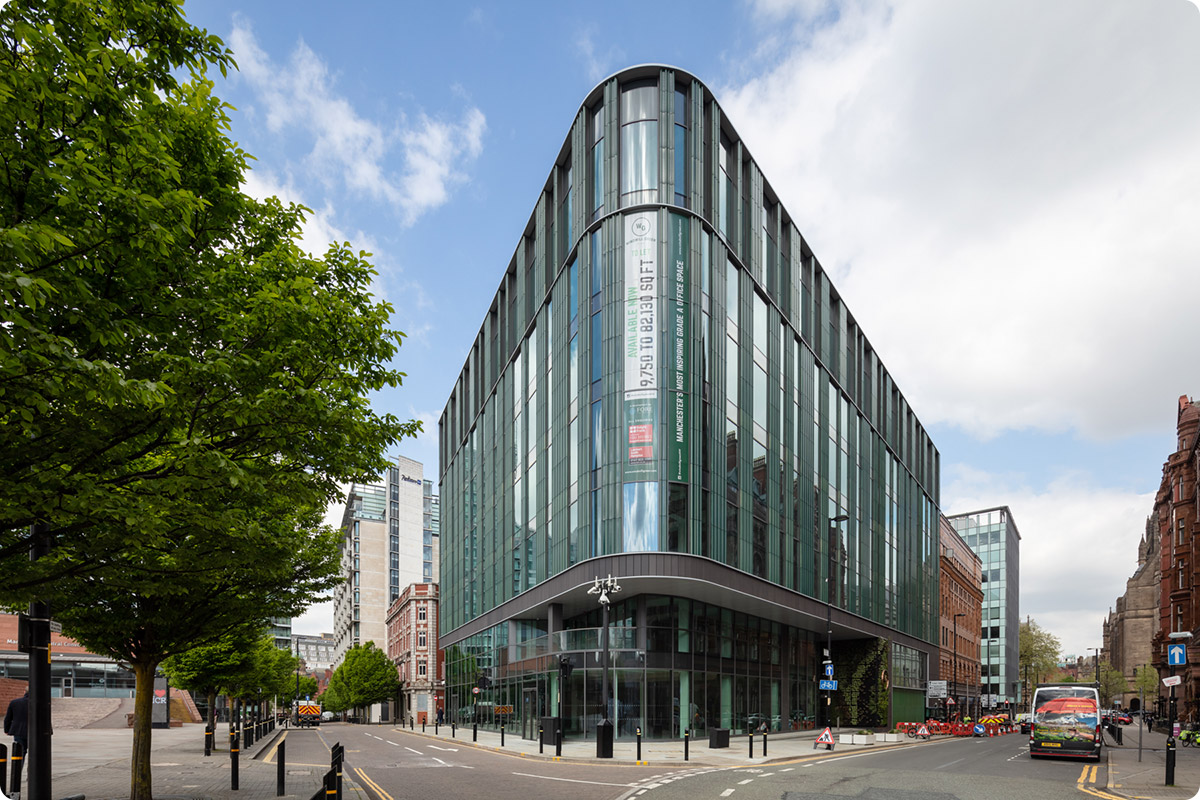 The Windmill Green building in the bustling downtown of Manchester, England.
"We live in and around cities to satiate our need for variety and vibrancy," says Collins. "Diversity and choice are two of the greatest benefits of urban density." 
That desire for diversity and choice extends to what we want in our workdays, too.
In a COVID-19 survey of 1,000+ U.S. office workers, we found random interactions with colleagues to be one of the top reasons people want to go back to the office. 
A close second? A change of scenery. 
"Just as we're attracted to vibrant places to live, we are also drawn to workplaces located in active neighborhoods," says Collins. "Everyone has different needs and preferences; workspaces and neighborhoods that offer access to great food, entertainment, services and amenities help attract and retain talent."
The role of live-work-play environments in the future of work
At the more basic level, there are three reasons people want to go to the office — or just about anywhere for that matter: 
1. Environment

There are reasons we go to a museum or a hospital or an office over turning to a documentary or telemedicine — or using Zoom and Slack from home.

It comes down to the environments these places offer us and specific things available to us in these environments (think trained doctors and specialized equipment in a hospital or the corporate environment and technology available in an office). 

2. Experience
We don't just leave the house for an environment. We also search out unique experiences. 
In much the same way we often prefer going to a restaurant over take out or going to a concert over listening to Spotify, we go to the office for the experience of being there and the buzz of working alongside others.
3. Social Interaction 
Humans are social creatures — and for every social function technology has brought online, it still hasn't replaced the serendipitous interactions and chance encounters that create relationships and advance careers. 
No matter how helpful video conferencing tools such as Zoom are, they can't capture the conversations that start organically before and after meetings as we walk down the hall with a colleague. 
These aren't new ideas — they're the basic reasons humans have long been drawn to urban life. 
But over the past decade, they have informed the development of live-work-play environments and become a key investment initiative amongst companies and commercial real-estate developers. 
And those investments aren't going away.
"When we go back to the office after a long period of working from home, many will, of course, appreciate the separation of their 'personal' and 'professional' spaces. But that doesn't mean we will give up the conveniences of blending work and play," says Kao.
Put another way: People will continue to go to the office to meet key professional needs — and they'll expect those offices to be in locations that meet their personal needs as well. 
"Even as we see a greater demand for the flexibility to work remotely among office workers, we'll continue to see a strong desire for workplaces that offer more than just a place to work," says Kao. 
He continues: "The fence around what a 'workplace' has typically been defined as is rapidly changing. The home, neighborhood, city and office all are part of a complex equation and people are making calculated decisions as to how each of these parts add up to a total experience."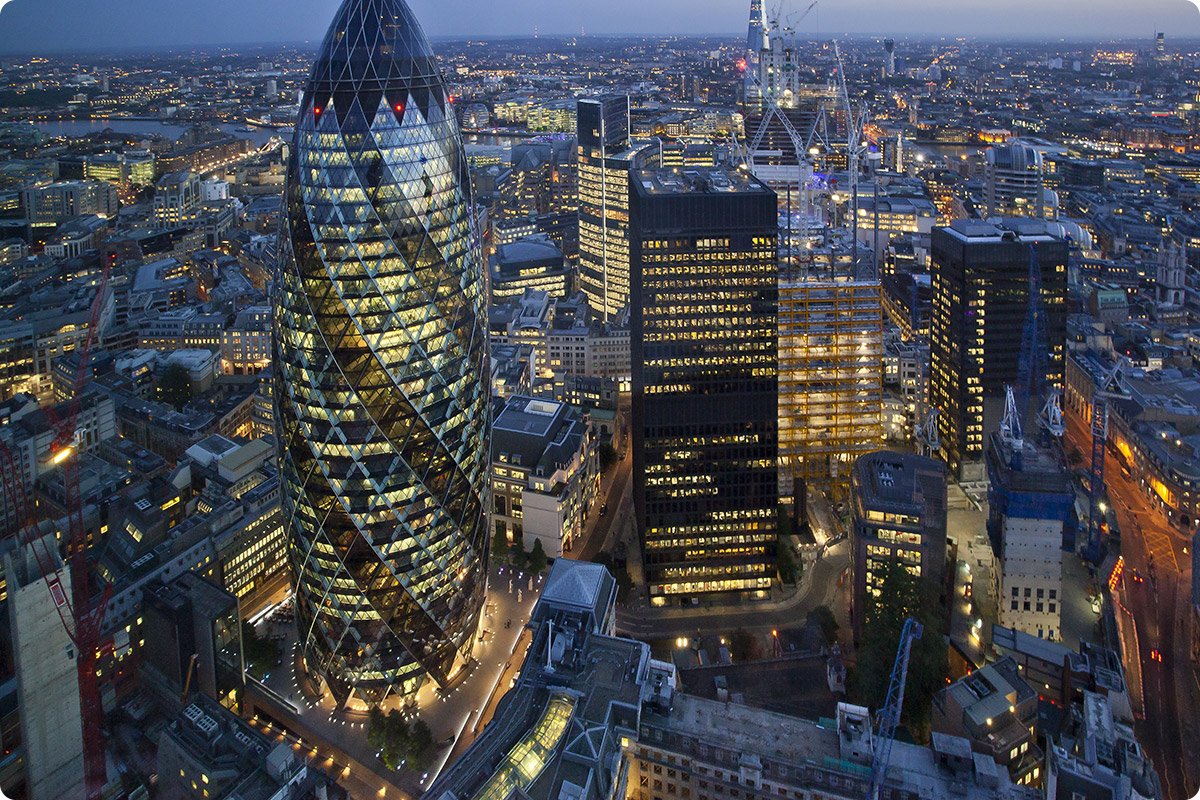 An aerial view of the Gherkin in the City of London.
That makes location critical. Whether it's a work-live-play office park or a workspace within a larger metro area, office workers and companies are set to continue investing in locations that meet more of our needs than just work alone. 
It's something that's already happening. 
Amazon alone has recently announced plans to add 900,000 square feet of office space across San Diego, Denver, Phoenix, New York City, Detroit and Dallas — and it's moving forward with its HQ2 campus in Arlington, Virginia which could stretch to 8 million square feet. 
In a CBRE survey of 126 companies, fewer than 1 in 10 companies say they are "considering moving away from high density urban cores." 
The key takeaway? Location still matters in commercial real estate, and the majority of companies aren't planning to ditch their urban offices for precisely that reason. 
Take this with you
The coronavirus pandemic precipitated the largest remote-work experiment in history and pushed many to question the role of the office in our workdays — and if future workspace investments would migrate out of high-density urban cores. 
The short answer: Don't expect companies to give up their urban offices. For office workers and employers alike, urban offices — and their work-live-play office campus  suburban analogues — have a strong role to play moving forward. 
Make no mistake, the office will change, and we'll see the day-to-day office routines of yesterday evolve and shift throughout and after the coronavirus pandemic. 
But even as people expect more flexibility to work from home after COVID-19, the office will still be essential to fulfill key professional needs for social interactions with colleagues — and the location of those offices will be critical to support key personal needs, too. 
Looking for an office that fully supports your team — and addresses the new way of work? We're here to help. Learn more about how a flexible workspace solution can enable your team to connect, collaborate and perform in this new world of work.