The benefits of coworking spaces
Thanks to upscale amenities, enviable perks and curated office designs, the best coworking spaces are providing today's workers with flexibility and professional workspaces.
Historically the domain of freelancers, startups and small teams looking for agile office solutions, coworking spaces have been meeting the growing demand for flexibility from high-growth companies, solo professionals and even enterprise companies for more than a decade with no signs of slowing down.
And while the COVID-19 pandemic has temporarily put a halt to most in-person work arrangements, experts expect the demand for coworking spaces to increase after the pandemic passes. 
This is due in part to anticipated increases in remote work and flexible working arrangements, which are expected to increase the number of remote teams and professionals who choose to work in private flexible offices and coworking spaces. 
Below, we'll explore:
5 benefits of coworking spaces
Even as COVID-19 has overturned how we work, the number of coworking spaces is still growing — and it's expected to keep growing at an annual rate of more than 20% through 2024. 
The reason why? Coworking spaces offer a powerful mix of flexibility for everyone from solo professionals to remote teams to enterprise companies. 
They also offer a number of compelling benefits. These include: 
Coworking spaces can increase productivity 
Coworking spaces often provide high-end shared amenities, useful resources and thoughtful workplace designs in convenient and desirable locations. 
For optimal productivity, workspaces should cater to different working styles and needs — which can vary widely — and provide workers with a range of work settings that let them change up the scenery throughout the day.
In a recent survey of 1,000+ office workers, 69% told us that they are more productive when they have variety in where they can work in the office during a workday.
At Hana, we offer a range of work environments to suit every need: Spacious desks, cozy nooks, standing-height tables, dedicated quiet spaces and on-demand meeting rooms.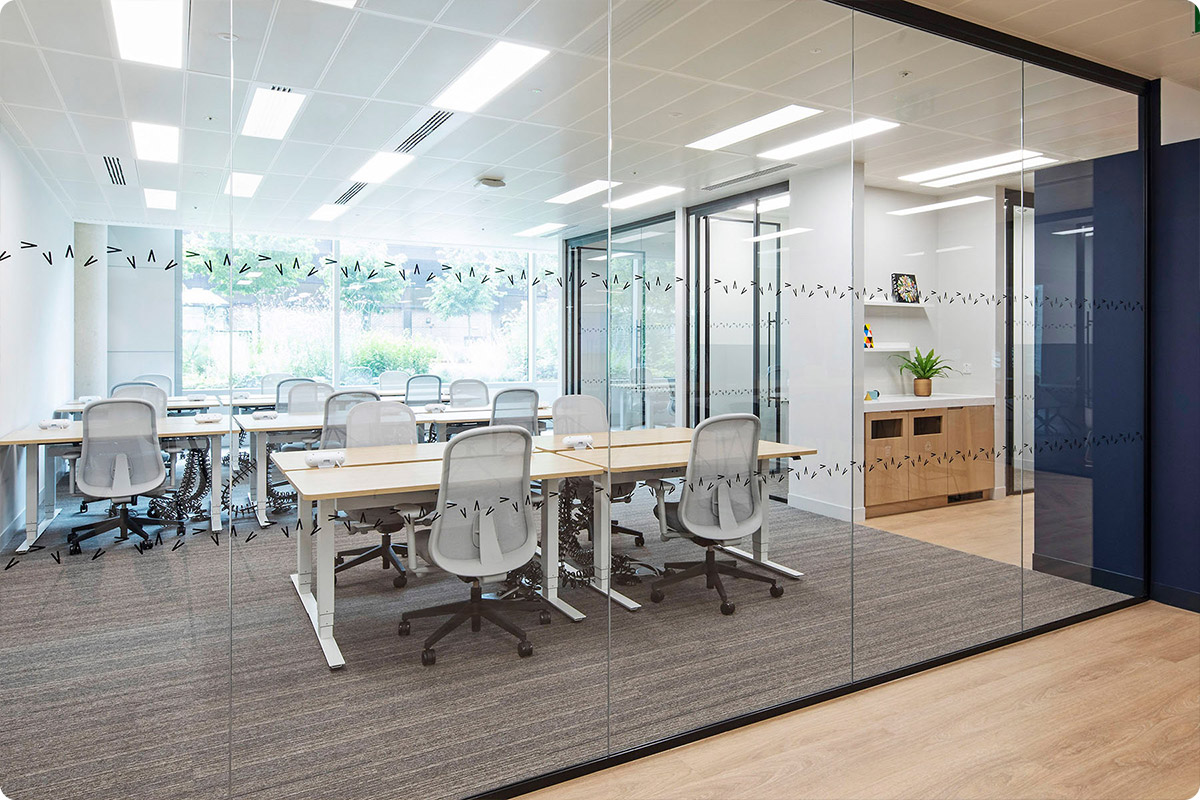 Coworking spaces often include many of the most sought-after workplace perks, like abundant natural light, ergonomic furniture and easy access to snacks and beverages — all there to help you stay fueled up throughout the day. 
What's more, being surrounded by other working professionals, regardless of whether or not you work with them, impacts motivation and creates a sense of community, which can boost productivity by combating feelings of isolation. 
In its 2020 Loneliness and the Workplace Report, Cigna found that 61% of Americans report feeling lonely at work. The hum of the office is exactly what many workers need to get a feeling of belonging and some extra motivation. 
Coworking spaces can offer a better work-life balance
Work-life balance is a phrase that has gotten a lot of attention over the years, and for good reason. With too much time on the clock, employee burnout can quickly set in, leading to all sorts of problems, like decreased productivity, stress, anxiety and loneliness.
And while working from home has its benefits, working in the same space you live can have a negative impact on your work-life balance. Case in point: It becomes much more difficult to avoid distractions like doing the dishes, responding to personal email or  calming a whining pet (or small child). 
All of this can distract you from getting your job done, which can make it feel as though you're never really getting any down time. 
Coworking spaces can help improve your work-life balance by offering a dedicated space to work — and giving remote employees somewhere outside the home to work from. 
With a dedicated space for work, it's easier to build a schedule that allows you to do what you need to be most productive. 
Coworking spaces also often offer a number of wellness amenities that range from fitness classes to cafes and outdoor workspaces, which can make it easier to find balance throughout the day.
Coworking offers flexibility & cost savings
Coworking spaces allow freelancers and full teams alike the freedom to pay only for what they need, when they need it. 
This flexibility is critical for companies — especially those in high-growth stages — to easily expand or relocate when they need to without the pressure of a long-term lease. 
Moreover, companies that embrace coworking solutions aren't on the hook for hefty occupancy costs — expenses like setting up the electrical work, procuring furniture or building out networking infrastructure. 
These things can be expensive in traditional offices. But in coworking arrangements, they're already taken care of.
Coworking offers networking opportunities
While coworking spaces are often excellent locations for client meetings and team meetups, they also provide unique in-person networking opportunities.
Many coworking spaces offer regular on-site networking events so you can take the time to get to know your coworking colleagues — from informal café gatherings to catered lunches.
Meeting people doing different work than you can help you feel like you're part of a community and may even provide some avenues for new business or collaboration.

Coworking offers on-demand desks, private rooms & conference rooms
No matter what type of environment you need, the best coworking spaces offer a wide range of workplace settings to choose from — whether it's a quiet room for focused work, privacy for a phone call or a fully-equipped meeting room for an all-team brainstorm session. 
Coworking spaces often offer:
Hot Desks: "Hot desks" are reservable shared desks available on a first-come, first-serve basis. 


Dedicated Desks: Some coworking spaces offer dedicated desk space where workers can rent a desk that is exclusively theirs. These spaces typically offer professionals a level of consistency — and the ability to leave some personal things at their desk.


On-Demand Meeting & Conference Rooms: Coworking spaces commonly offer on-demand meeting and conference rooms which members can book for a set amount of time.

At Hana, our meeting and conference rooms are fully equipped with whiteboards, hassle-free video conferencing and wireless screen sharing for optimal collaboration.
What are alternatives to coworking?
Despite the benefits that coworking spaces offer, some professionals and teams may find themselves searching out coworking alternatives. 
The reasons can range from teams looking for a standalone private office to professionals searching for hourly spaces or a cheaper place to work.
To help you find a work environment that fits your needs and budget requirements, here's a list of five common alternatives to coworking spaces: 
A serviced office
A serviced office offers a fully managed and standalone workspace facility. Unlike a coworking space, serviced offices offer no shared amenities — or shared workspaces. 
Instead, they are completely private offices that can range from a smaller space to several floors.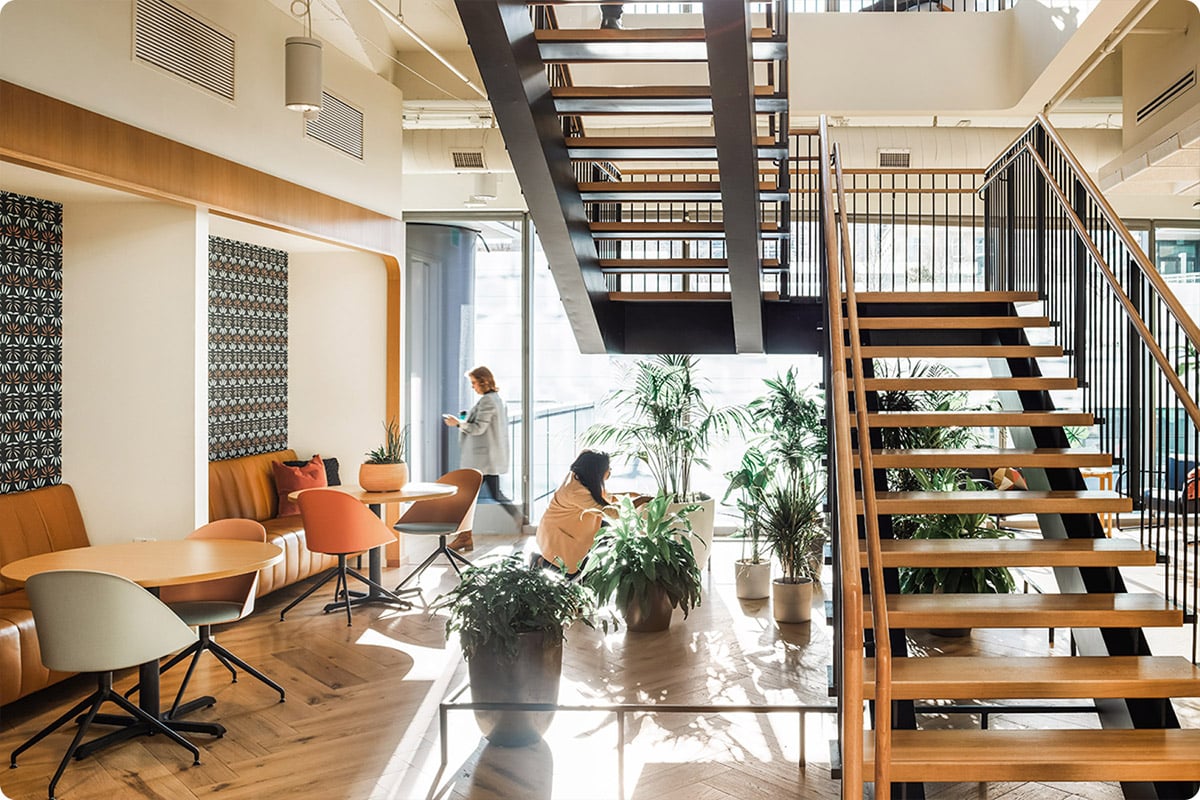 Serviced offices offer key benefits to businesses that include configurable design and furniture setups and full workplace management services that range from janitorial to mail-and-package handling — and even standalone amenity offerings. 
For companies and teams looking for increased privacy and standalone workspaces, serviced offices can be an appealing choice. Notably, however, organizations that choose a serviced office will typically see higher costs for added amenities and workplace design configurations. 
An hourly workspace
For some solo professionals and remote teams, hourly workspaces can be a good option. These workspaces can sometimes be located in a coworking space. They can also be hourly meeting rooms and private offices, too.  
The benefits of an hourly workspace come down to only paying for the office space you need, when you need it — which make these offices a great choice for remote workers who only need a workspace for specific tasks. 
A local coffee shop or library 
For more cost-conscious remote professionals, working in a local coffee shop, library or other similar public places can be an appealing option.
And you'll be far from alone in doing so. 
A large number of people already say they work some or part of the time in coffee shops and other public places throughout the course of the week — and countless guides exist online offering tips on everything from coffee shop working etiquette to reasons why people are more productive in coffee shops (hint: it's not just the coffee). 
A traditional office 
Of course, high-growth and enterprise-size companies always have the option to take on a traditional 10-15 year office lease — and many do. 
But making this kind of investment often depends on business forecasting and growth plans. Because it is an investment.
Unlike coworking spaces, a traditional office lease requires businesses to design, build and manage their own workspaces, making investments in furniture, technology and build-out costs. 
It also requires a longer commitment with less built-in flexibility to shorten a lease — or expand the size of the office to meet team growth. 
A shared office
Over the years, some businesses and professionals have taken to co-signing traditional leases and sharing office space. This is an effective way to save money and build community in a given workspace. 
But the avenues for doing this depend on the business in question. Some may choose to rent a serviced office to skip over build-out costs while others will gravitate towards traditional leases to lock in a fixed cost. 
What are the best coworking solutions? Key questions to ask yourself
Many coworking spaces tout enticing workplace perks like game rooms, catered meals and happy hours as their top attractions. 
But our research shows that employees want something different: Functional amenities and services that help make the workday better. The top workplace perks include key benefits such asnatural light, flexibility, on-site gyms and cafés and, above all, access to privacy.
As you're seeking out the best coworking solution for you, be sure to ask yourself these questions:
Does it have space available for you to focus on your work?
Community and collaboration are crucial, but the truth is that workers also need a place to focus in private. 
While on-site café spaces provide much-needed respite and refreshment at various points of the day, make sure the coworking space you choose also provides private rooms, dedicated quiet spaces or enclosed pods so you can actually get some work done or take a phone call. 
Without these, you may find it difficult to get that uninterrupted time necessary to be productive.
Is the internet connection strong enough to support your work (and the work of dozens of others at the same time)?
Fast Wi-Fi is non-negotiable. Even more important is having internet access that is reliable and fail-safe, especially in times of peak use.
So make sure the coworking space you choose has strong Wi-Fi. The last thing you want is a slowed-down or interrupted connection during your next Zoom meeting.
And if you're a developer, designer or other creative who tends to upload and download huge files, be sure to find a coworking space that lets you plug in directly to an Ethernet port.
What kind of building access are you granted?
These days, workers expect easy access when using a coworking space. Plenty of providers offer 24/7 office access to members. 
Look for a coworking space that lets you work when you want with keycards, fobs or mobile apps that give you easy building access.
Does it offer the amenities you need to be productive? 
Is the space quiet and designed with acoustics in mind? Are printers available and easy to use? Is booking conference rooms a breeze? Are the desks ergonomic? Is there an on-site café? 
Make sure the coworking space is equipped with the most effective tools and resources available so you can get your job done without wasting time just trying to find a convenient power outlet or comfortable chair.
Coworking vs. flexible workspaces 
All too often, the terms "coworking spaces" and "flexible workspaces" are used interchangeably — but they aren't exactly the same thing.
Coworking spaces are a type of flexible workspace. Flexible workspaces, as an umbrella term, encompass everything from on-demand meeting rooms and private offices to coworking spaces and executive suites. 
It's helpful to think of coworking spaces as somewhat temporary spots where you can post-up to work whenever you want with minimal commitment — for a few hours or a few months.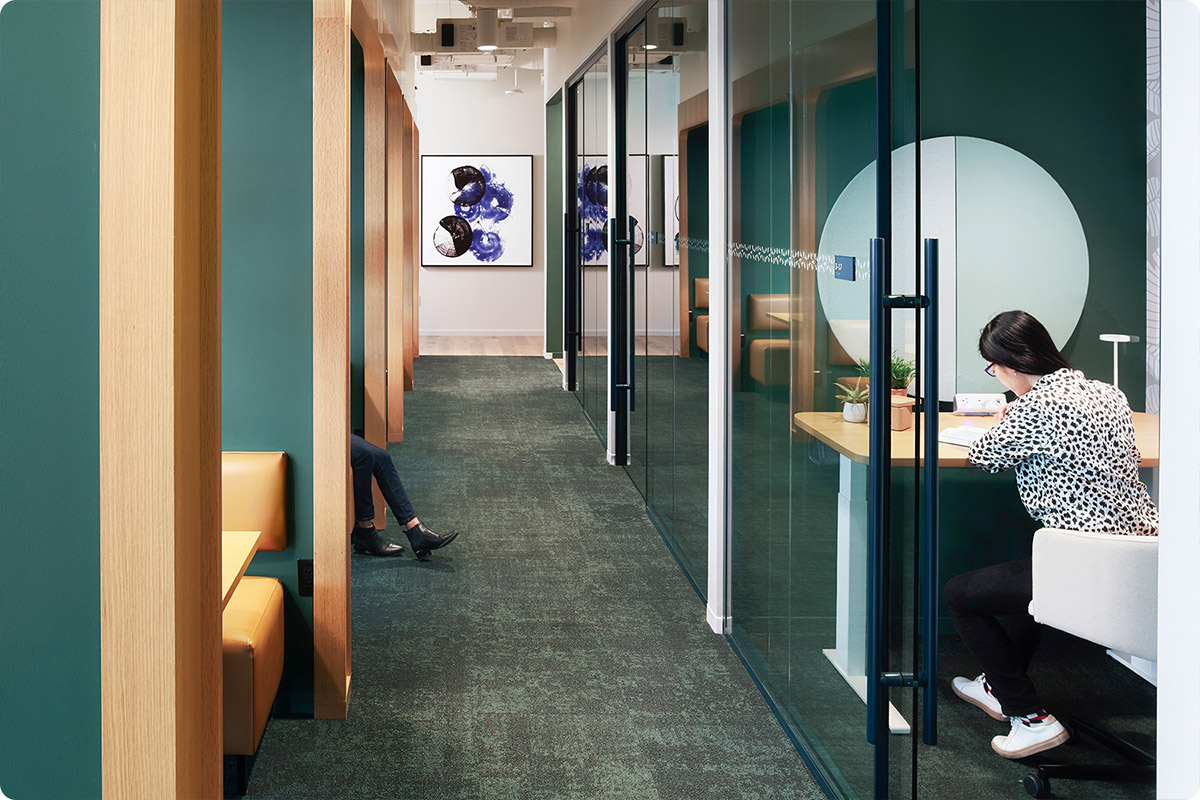 Fundamentally, coworking spaces are multiple companies and professionals can congregate to work. 
Flexible workspaces, on the other hand, represent any type of customizable office space that is reserved for a single company, typically provided on a flexible lease term. 
Where traditional office leases can carry lease terms of 10-15 years, flexible lease terms can be negotiated to last anywhere between one to five years. 
How to find the right flexible workspace 
The type of flexible space you need really depends on the type of work you and your team are doing. 
Enterprise companies are much more keen on using branded flexible workspaces — think private suites, executive offices and entire office floors for a single company — so they can have exclusive access to rooms tailored to their needs while enjoying the benefits of more flexible lease terms.
At Hana, we design, build and manage fully serviced office suites uniquely configured for high-growth teams.  
If you're a mid-size company looking at rapid growth over the next 1-3 years, then flexible workspaces may be the avenue for you. 
For small teams that just need a place to go during the day, coworking spaces are probably the better option. Here, you can work independently at available desks and work together effortlessly in on-demand rooms when necessary, paying only for what you need.
Take this with you
The far-reaching benefits of coworking spaces have placed these work settings among the most coveted and fastest-growing office solutions on the market. Even as the COVID-19 pandemic has slowed things down, the demand for flexible office space has only increased. 
Whether you are looking for a space to call your own outside of the home, or an opportunity to find your next collaborator, the best coworking spaces provide workers with tastefully designed work arrangements featuring a whole suite of productivity-boosting amenities, from on-site gyms and cafés to ergonomic desks and privacy booths. 
The bottom line: The benefits of coworking spaces extend well beyond the freelance crowd.
Coworking can suit almost any industry and company, no matter their size — which is why so many enterprise companies have been gravitating towards more flexible office solutions. Ultimately, the largest benefit of coworking spaces is the flexibility they provide, making them extremely conducive to growth. 
Over the next several years, we expect to see a boom in demand for coworking spaces as companies seek out office solutions that cater to a wide range of workplace needs, place a premium on productivity and collaboration and prioritize in-demand amenities over splashy perks. 
Learn more about the importance people place on meaningful connection at the office in our latest report, COVID-19 is accelerating the demand for flexibility and meaningful connection.