7 ways brokers can attract more clients with flex space
As occupier demand for flex space increases, commercial real estate brokers have an opportunity to attract more clients — and help existing clients diversify their portfolios.
Commercial real-estate brokers face profound changes within the industry as tenants grapple with new economic pressures and uncertainties brought by the coronavirus.
For years, brokers have relied on a combination of traditional 10- to 15-year direct leases and shorter-term leases. Tenants now, however, are looking at short-term leases and flex space solutions to navigate an uncertain business climate.
According to a report by CBRE, 86% of enterprise occupiers see flexible workspaces solutions as a crucial part of their real estate strategies.
Change for an industry with established processes will be challenging. But there's significant opportunities for brokers to diversify their commercial real-estate portfolios with flex space solutions.
Below we'll break down the seven ways brokers can attract more clients with flexible workspace solutions. We'll explore:
How brokers can use flex spaces to capture a new source of occupier demand
Demand for flex workspace is on the rise. In CBRE's 2020 Global Occupier Survey Report, 86% of respondents see flexible office space plays a role in the future of their real estate strategies.
CBRE identified three reasons among enterprise occupiers for this growing demand for flex:
Nearly 46% of companies want to provide a network of locations for a more mobile workforce
44% of organizations see that flex space can help them enter into new markets
Around 40% say flexible workspace solutions give them the ability to test new workspace options
As occupiers grow more interested in flexible workspace solutions, many are taking a fresh look at their real estate portfolios.
CBRE's report shows that almost 41% of occupiers said flex workspace would help reduce capital expenditures. In part due to this, 36% of enterprise occupiers say flexible workspaces will play a significant role in their real estate strategies moving forward.
For brokers, this growing demand for flex space among enterprise and high-growth occupiers represents an opportunity.  
The Key Takeaway
The demand for flex is real. As occupiers adjust to a more dispersed workforce that relies less on one physical location and more on mobility and choice, they are turning to flexible workspace solutions to diversify their real estate portfolios and reduce capital expenditures.
How brokers can use flex space to meet their clients' space needs in real-time
COVID-related government restrictions have forced both enterprise tenants and landlords to think creatively when it comes to office space.
Traditional 10-15 year office leases prevent large-scale occupiers from achieving "choice, mobility, and autonomy" in their future workspace solutions, according to CBRE.
Many flex space providers are offering integrated enterprise solutions to design standalone workspaces, focusing on privacy and customization. Brokers can leverage these emerging options with clients who are asking for flex space that can be tailored to their needs.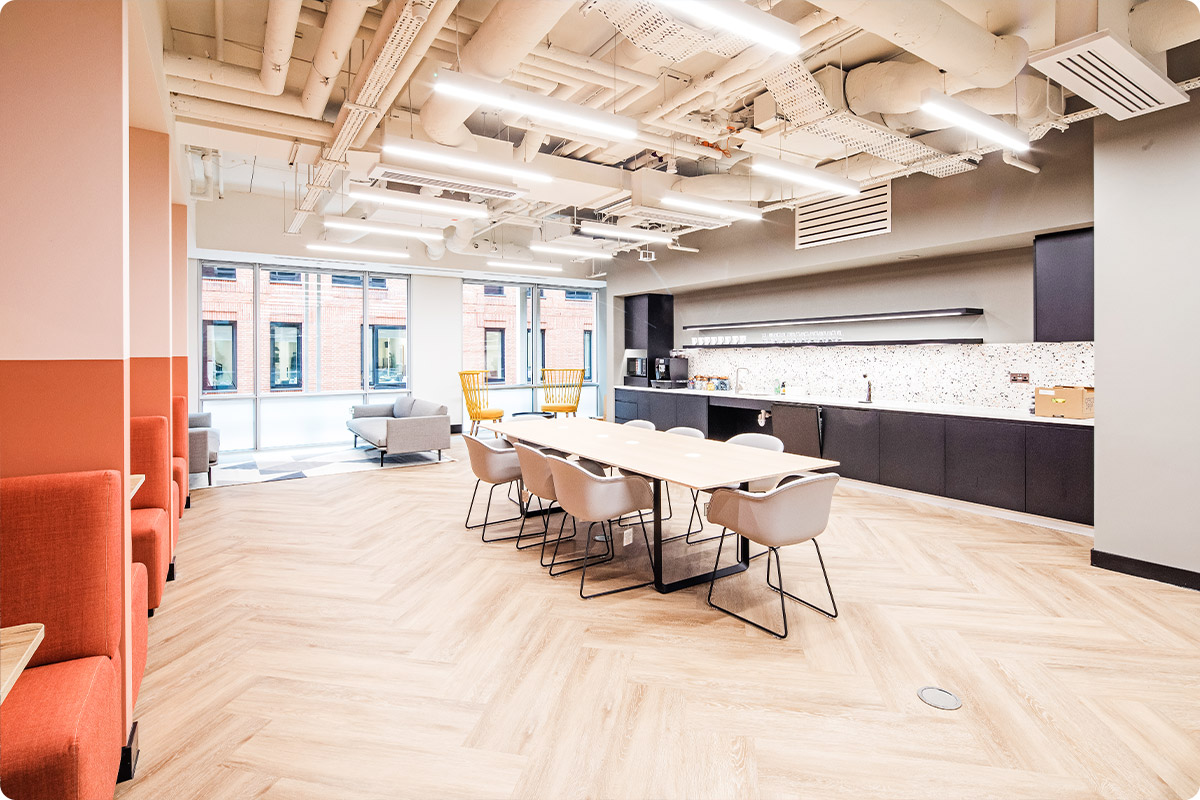 Additionally, as enterprise and high-growth companies face new workforce behaviors, they are taking a sharp look at how much space they need and when ­they need it.
Flexible workspaces offer organizations a way to space plan in real-time with a combination of flexible lease terms ranging from several months to a few years — and on-demand offerings such as coworking overflow space and meeting rooms.
Some key use cases for flexible workspaces among enterprise and high-growth occupiers include:
1. Offering distributed workspace locations for distributed teams
Employee work patterns have drastically changed due to new pandemic-related health guidelines. According to CBRE's 2020 report, the most common words respondents used to describe workstyles in the future are choice, mobility and autonomy.
As companies look to accommodate new employee work patterns, some occupiers are exploring hub-and-spoke real estate strategies where they complement urban hub offices with distributed satellite spaces. To do so, some occupiers are turning to flex space solutions to enable employees to choose where and how they work.
2. Taking private office space with flexible lease terms
Like a traditional office space, tenants can customize the workspace with corporate branding, task-based work areas, and other options. Unliked classic long-term leases, flex space leases can range from six months to two years — or longer — depending on the real-time needs of the client in question.
3. Using flexible workspaces as swing spaces
Typically used while a company refurbishes an existing office space, these are short-term workspaces that can come fully furnished. Plus, many flexible workspaces allow tenants to move in immediately.
The Key Takeaway
For brokers, flexible workspaces offer clients a way to navigate a changing world of work and explore workplace strategies that enable employee choice, mobility and autonomy. Moreover, clients enjoy a faster leasing process — and flexible lease terms — with flex space solutions that make them an appealing choice in today's environment.
How brokers can use flex spaces to close deals faster & earn repeat commissions
Flex spaces provide tenants with much faster leasing cycles and expedited move-in dates compared to traditional office spaces — and those factors, when combined with reduced capital expenditures for build-out fees, often make flex an appealing choice for businesses.
They likewise make flex space solutions an attractive option for brokers, too.
On average, brokers can close flex space deals in a matter of days and weeks, helping clients find — and move into — an office quickly. In contrast, traditional 10-15-year leases take much longer to plan and execute.
Flex space providers can also offer significant brokerage fees and commissions — and when coupled with faster deals, these commissions can become a quick and repeating source of income.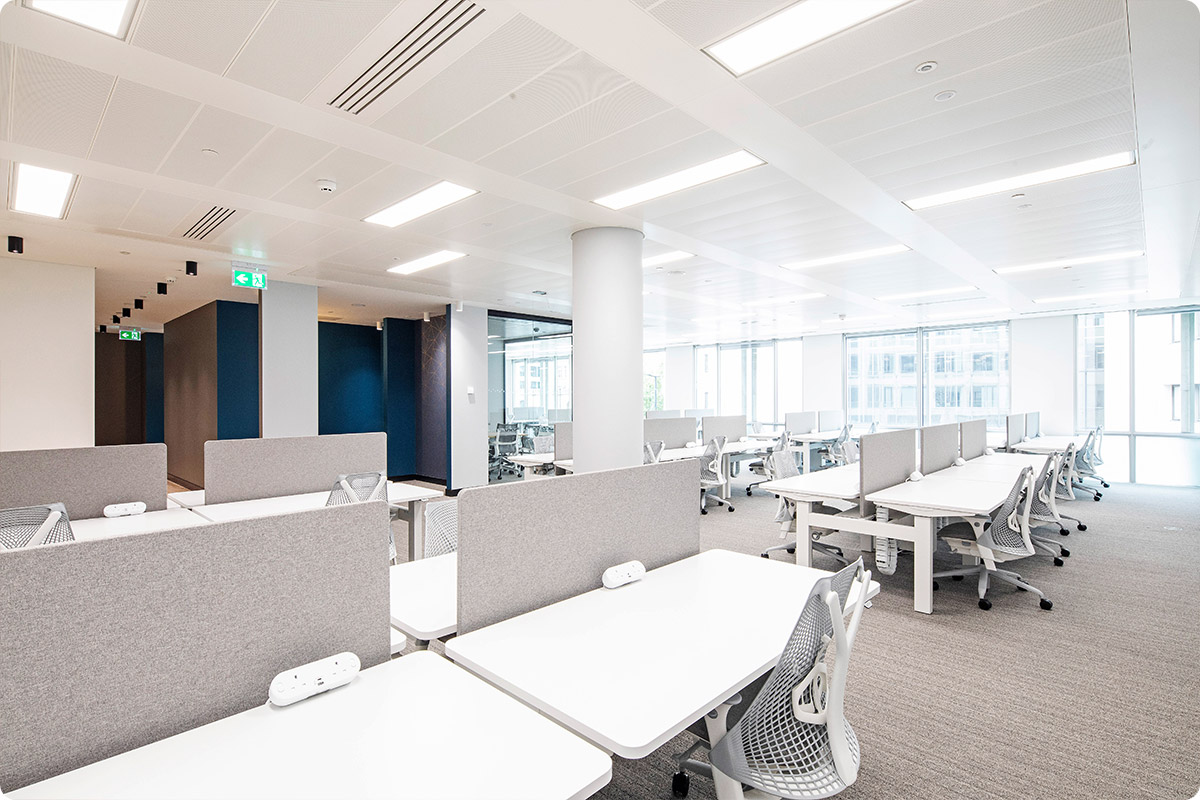 Case in point: If a tenant signs a three-year lease, a broker will typically receive an upfront commission of 10-15% and then receive smaller second- and third-year payouts.
If a client only signs a one-year lease and then decides to renew it, commission fees are extended to the broker based on that renewal. Many flex space providers also offer additional commission payments to brokers when an occupier expands their footprint within a given location.
This means a broker can receive more than one commission payment related to a single client over the course of that client's lease terms.
Where flexible workspace providers historically targeted individual professionals and smaller startups, there has been a shift in recent years towards acquiring enterprise occupiers. To achieve this, many flex space providers have sought to partner with brokers to facilitate larger flexible leases — and in doing so, many have sought to respect the broker-client relationship and avoid inserting themselves in the leasing process.
This means brokers retain control over their client relationships through the flexible lease process. The best flex space providers also go a step further, notifying brokers when a client's lease is set to expire or an occupier voices interest in expanding their footprint.
The Key Takeaway
Compared to traditional direct leases, flex lease lead times are significantly faster and mean brokers can close more deals in a shorter time frame — and earn repeat commissions, too.
How brokers can use flex space to turn companies into repeat clients
Growing businesses experience change constantly — and that's especially true in light of COVID-19.
A company's ability to expand its real estate footprint — and scale it down as needed — is vital for a business's long-term success. In today's market, many companies are also contending with serious questions about what the long-term implications of remote work will be on their real estate footprints.
Some companies are freezing their growth plans as they contend with uncertain business forecasts. Others are choosing to reduce their direct lease commitments and augment their portfolios with flexible workspace offerings.
For brokers, this growing interest in flexible workspace solutions represents an opportunity.
With traditional leases, brokers help clients solidify a long-term investment strategy that inherently ­­accounts for business growth. But with a flex space lease, growth and flexibility are the key strategic pillars, enabling occupiers to responsively grow their footprint in real time and bring agility to their portfolio.
This focus on growth and flexibility positions brokers to repeatedly help clients both expand into additional flex leases and direct leases when the time is right.
The Key Takeaway
With flex space solutions, a broker has the opportunity to help an organization grow their footprint as they need more space. This can take the form of a high-growth company looking to add more office space to their portfolio — or an enterprise company looking to diversify their portfolio with flex space solutions. This represents an opportunity for brokers to build deeper relationships with clients.
How brokers can use flex space to offer clients turnkey & configurable office spaces
As occupiers look for ways to keep capital expenditures low, turnkey flexible space solutions offer a compelling alternative to more capital-intensive direct lease options.
Whereas direct lease office space comes with move-in and build-out costs for occupiers, a number of flex space providers offer move-in ready private offices complete with technology, furnishings and a host of additional managed services.
This carries obvious financial savings for occupiers. It also reduces move-in times, enabling companies to quickly draw value from their investment.
But some flex space providers are also offering integrated enterprise solutions that enable occupiers to configure and customize their own standalone workspace from start to finish.
These solutions offer a host of branding and furnishing options, technology packages and configurable floor plates, giving occupiers a means to create a space that works for them. Moreover, move-in times with these solutions can occur in as few as eight weeks.
The Key Takeaway
Flex space providers are already offering tailored workspace solutions to meet the needs of companies large and small. Chief amongst these are tailored private office solutions that offer occupiers custom branding options and enterprise-grade technology packages.
Some of these office space solutions include smaller offices for growing teams that fit 10-75 people and larger, more tailored office solutions that accommodate 100-300+ people and offer a customizable floor plates and personalized design touches.
As companies large and small look towards flexible workspace solutions to navigate uncertainty and reduce capital expenditures, brokers have an opportunity to assist clients in reducing move-in times and build-out costs.
How brokers can use flex space to help clients adopt a hub-and-spoke model
Amidst the COVID-19 pandemic, industry experts and thought leaders have raised the prospect of hub-and-spoke real estate strategies where companies complement urban hub offices with satellite office spaces.
The goal: To help employees reduce commuting times by offering workspaces that are closer to home — and tap into additional talent markets.
The model, originally championed by airports, is increasingly becoming a valid solution for select companies. Plus, the effects of the pandemic have made companies rethink the office and workday after COVID-19.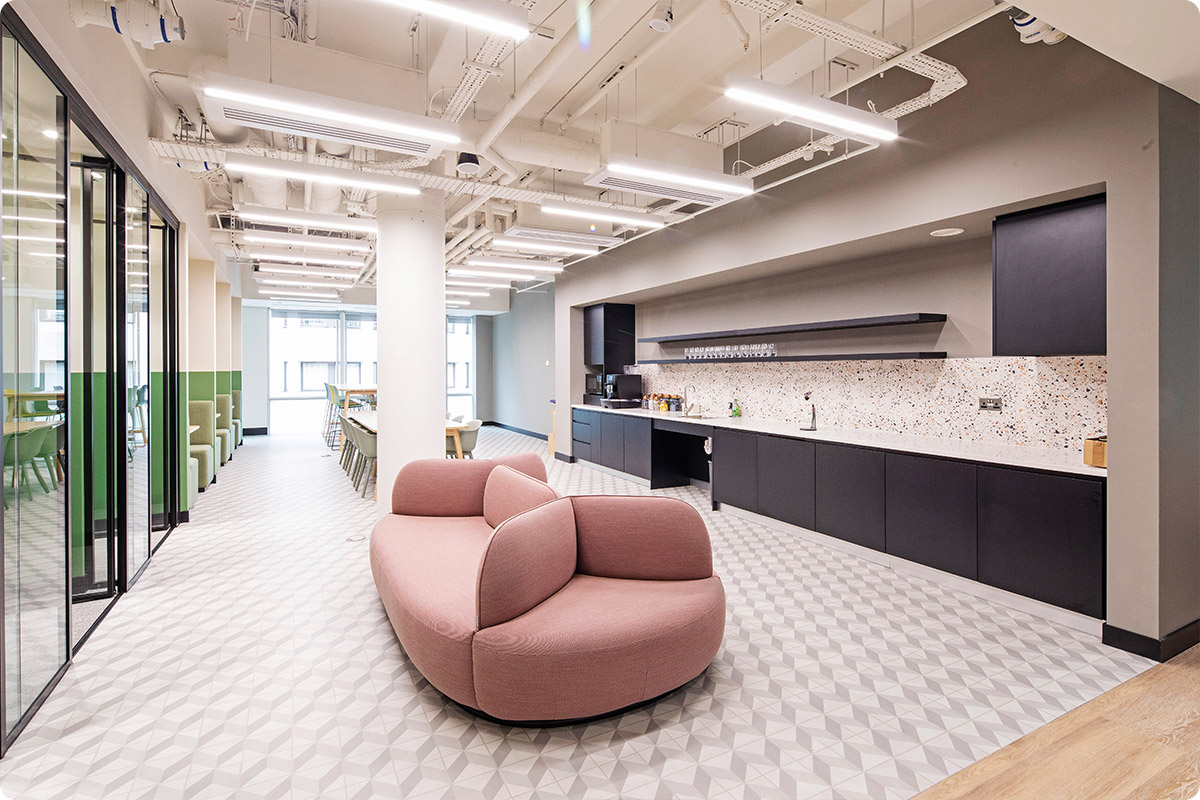 Some companies are moving to adopt a hub-and-spoke model — and leveraging flexible workspace solutions to develop effective satellite offices for their employees.
For brokers, this offers an opportunity to help clients secure a number of flex leases to enable their teams to function successfully — no matter how distributed they may be.
The Key Takeaway
As occupiers explore the adoption of hub-and-spoke real estate strategies, brokers are well positioned to help clients explore meaningful ways to achieve success — with flexible workspace solutions playing an integral role in the process.
This can include helping clients augment their "hub" offices with flexible space solutions as they seek to downsize their traditional lease commitments. It can also involve helping clients leverage flexible space solutions to build out a network of satellite offices that best meet the needs of their employees — and their business.
How brokers can combine flex leases with direct leases
Over the past several years, flexible workspace solutions have become a must-have amenity in buildings for traditional occupiers — both as a way to offer employees shared amenities and to access overflow workspaces for their teams.
This has led some flex space providers to work with landlords to develop more cohesive and integrated flex space solutions within a given asset.
It's also pushed some flex space providers to work with landlords and brokers to strike colocation deals where companies complement direct space leases with flexible workspace solutions — often either in the same building or within the same area.
For companies, the benefit of complementing direct space leases with flexible leases comes down to flexibility.
The rise of remote work due to COVID-19 has fueled uncertainty around what peak occupancy will look like after the pandemic passes.
Coupled with uncertain business forecasts and growth projections, some occupiers are choosing to take smaller direct lease offices and leverage flexible workspaces within the same building as spillover space for their teams — and even leasing private flexible offices for their employees to use.
For brokers, the ability to package traditional and flexible leases together offers a way to help clients diversify their portfolios — and reap larger commissions, too.
The Key Takeaway
As companies revisit their real estate portfolios and confront uncertainty around what the future of work looks like after COVID-19, brokers have a unique opportunity to help their clients leverage a mixture of direct-lease and flexible lease spaces.
Some flex space providers are working with landlords to turn flexible workspaces into a building amenity, offering occupiers the chance to combine direct-lease spaces and flexible-lease spaces within the same building.
Brokers have an opportunity to capitalize on this trend moving forward and structure deals that serve the needs of their clients — and produce diversified commission payouts, too.
Take this with you
Once the domain of startups and solo professionals, flexible workspace solutions have accelerated into an accepted real estate strategy among Fortune 1000 and enterprise companies.
The shift to short-term, flexible workspaces provide companies advantages like decreases in capital expenditures, adaptability in the market, and more predictability.
Additionally, companies know a majority of their workforce expect a component of remote work to remain after the global health crisis dissipates.
This is a rare opportunity for commercial real estate brokers to provide innovative solutions to enterprise clients, earn higher commissions, gain repeat business from clients, and ultimately, diversify their portfolio.
Learn more about the importance people place on meaningful connection at the office in our latest report, COVID-19 is accelerating the demand for flexibility and meaningful connection.