Hana officially opens at Windmill Green in Manchester, UK
We're excited to officially open our first location in Manchester — and to prepare to open our second location in the city later this year. Manchester has experienced record economic growth over the last decade, and this has attracted significant inbound investment in the city, making it very attractive to both businesses and professionals.
After months of work from our design, architecture, and construction teams, and more than a few Zoom calls to discuss our official launch plans, Hana at Windmill Green in Manchester, England is officially here.
Located right next to Spinningfields and the Manchester Central Station, Hana at Windmill Green represents Hana's first location in the United Kingdom outside of London.
As the second largest city in the U.K., Manchester has attracted more than 2,000 foreign-owned companies.
Let's explore what makes Hana at Windmill Green so unique — and why we're opening a second Manchester flexible workspace location later this year.
An inside look at Hana at Windmill Green
From the moment you approach the Windmill Green building, it's clear that this is a modern space with a commitment to sustainability.
Developed by FORE Partnership, a certified B organisation, Windmill Green makes an instant impression with the combination of a contemporary glass fascia and extensive green living walls on the exterior of the building.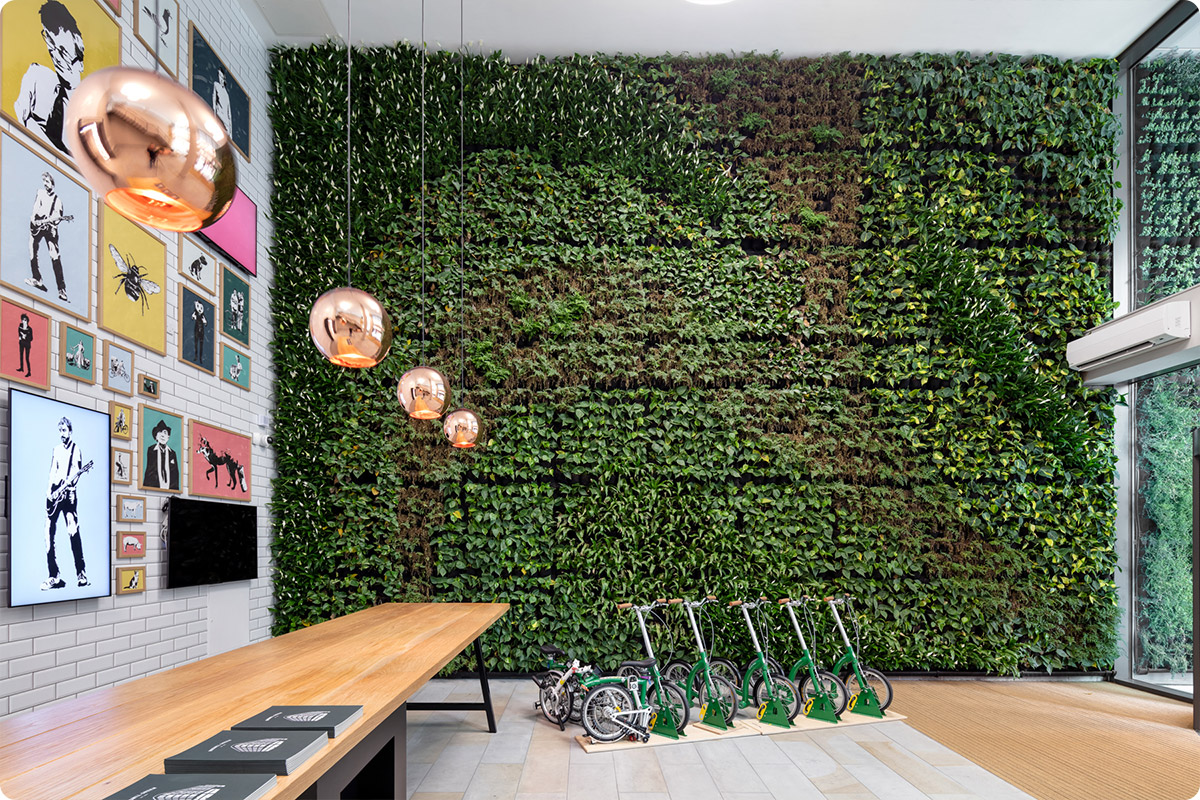 The building lobby of Windmill Green with complimentary Brompton bike hires.
It has also been named one of Manchester's greenest office buildings — and for good reason. As the first building in Manchester with a BREEAM Outstanding building and a WiredScore Platinum status, Windmill Green boasts the largest green living wall in the city and a spacious rooftop terrace with its very own active beehives.
Moreover, the building offers occupiers a fleet of branded Swifty Scooters and Brompton bikes that can be used free of charge, ample bike storage and easy access to public transport and nearby amenities.
All of this made it a natural location for our first Hana in Manchester.
"Hana is the perfect fit for Windmill Green," says Basil Demeroutis, a Managing Partner at FORE. "We had been exploring the prospect of bringing a co-working element to the building for some time, but we wanted to be sure that the product would be completely in line with what Windmill Green stands for."
That was something our design and architecture team took to heart as they developed Hana's workspaces in Windmill Green.
Accessible via the main lobby, Hana strikes an immediate impression that perfectly complements the design ethos of Windmill Green with an abundance of plants, natural wood finishes, and sleek white and deep green walls.
The entry opens up directly to Hana's concierge desk, which is staffed by an on-site hospitality team providing concierge services and help to all members and guests.
Past the entrance, Hana offers a number of private offices for 1-100+ people (Hana Team), on-demand meeting rooms with state-of-the-art technology (Hana Meet) and acoustically-designed coworking spaces for individual professionals (Hana Share).
All of these workspace offerings feature all-inclusive amenities that range from complimentary crafted snacks to gratis beverage offerings including sparkling water taps, top-notch espresso machines, gourmet drip coffees and teas.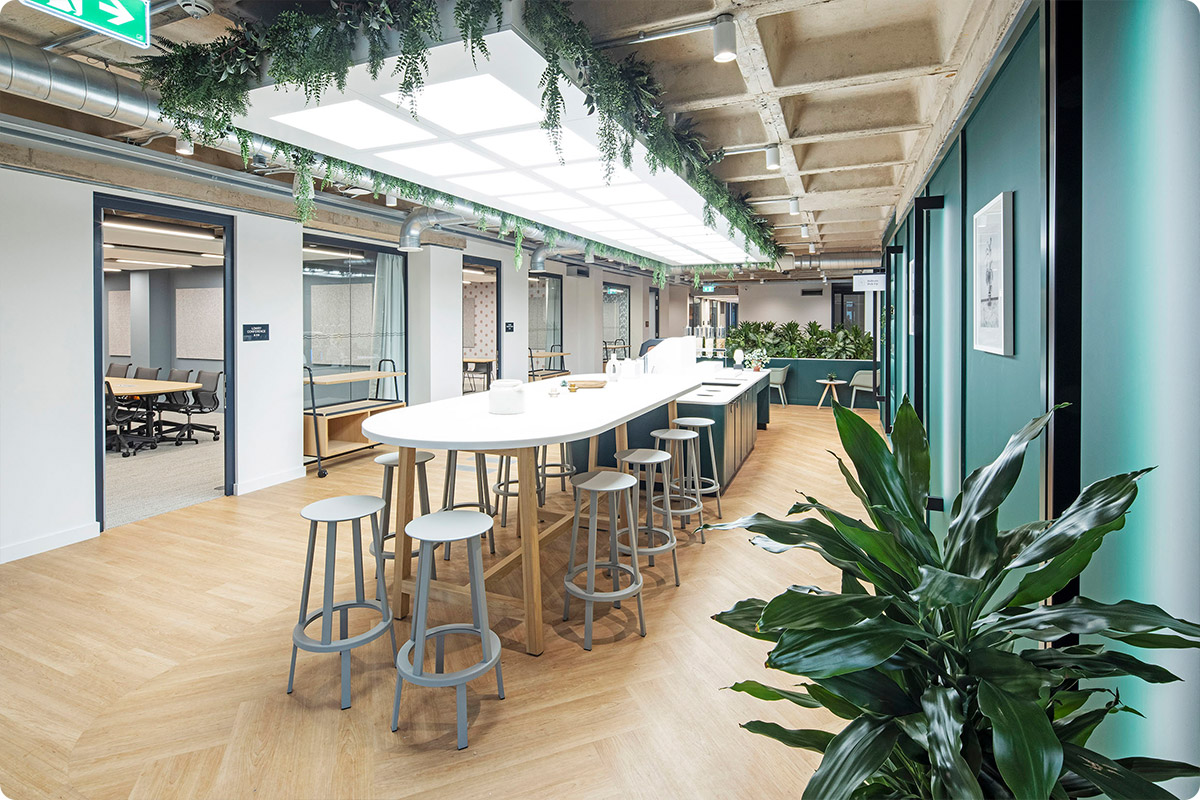 A coworking area at Hana at Windmill Green.
This location also features a new product line 'Hana Select,' which stretches across an entire floor at Windmill Green and offers occupiers personalised — and fully private — office settings. With hundreds of workspace and layout options, Select features tailored office environments for one or more occupiers. It also boasts dedicated, private entry points with occupier branding and full access to everything Hana has to offer on the ground and second floors.
Due to this and more, Hana at Windmill Green makes an ideal destination for enterprise-grade, high-growth organisations, and professionals in Manchester.
"With occupiers focused more than ever on health, wellbeing, and community, Hana shares our sense of purpose, and the finished space aligns perfectly with this shift in values," says Demeroutis. "Now that it's opening, we can't wait for the Manchester business community to see how high-quality the spec of Hana at Windmill Green is, and to understand what sets it apart from other co-working facilities within the market."
Why businesses are flocking to Manchester
With the official opening of Hana at Windmill Green, we're also looking towards a bigger objective: establishing a presence in one of the United Kingdom's fastest growing regional hubs.
Over the past 15 years, businesses large and small have flocked to Manchester — driven in large part by sizable government investments in the city, a growing and diverse talent pool and a culture rich in history and diversity.
According to Invest in Manchester, "Manchester represents the largest UK city region economy outside London, with an economy worth £62.8 billion (GVA)." Moreover, the city itself is leading the way "in the fields of AI and data, advanced materials, cyber, construction tech, eCommerce, IoT, MedTech and service design."
That economic strength and diverse range of industries has proven attractive to domestic and multinational businesses. Companies ranging from AstraZeneca to Adidas and the Royal Bank of Scotland are among just some of the businesses that have invested in office space in Manchester.
And one more thing: Manchester has been voted the most livable city in the United Kingdom — which is no small feat. In part due to this and its lower cost of living, there was a 26% jump in the number of young professionals living in Manchester from 2002 to 2017.
Taken together, the northern England city has become a hot spot for business ranking second only to London.
That, in part, is why we're thrilled to be offering occupiers a more flexible workspace solution — to both enter the Manchester market or expand their footprint within the city.
At present, just six percent of commercial office space in Manchester is operated by flexible workspace providers. And while we expect that number to grow in the months and years ahead, we saw a pronounced need among enterprise and high-growth companies for a different type of flexible space offering — one that didn't currently exist within the greater Manchester area.
"In addition to providing flex space for mid-to-large size companies, Hana at Windmill Green will provide an amenity for the neighborhood, enhancing Manchester's live-work-play offerings," says Paul Nellist, the EMEA Managing Director for EMEA.
What's next for Hana in Manchester
Even as we open Hana at Windmill Green, we're already looking forward to our next location in Manchester at St. Peter's Square.
Earlier this year, we announced a new management agreement with the real estate investment firm Barings at its Landmark building in Manchester.
This new location — called Hana at St. Peter's Square — will be a short walk from Hana at Windmill Green in the city centre. And it signals our confidence and belief in the Manchester business community and city's ongoing growth.
"We continue to see strong demand in Manchester from occupiers to add greater flexibility to their real estate portfolios," Nellist says. "This comes as no surprise due to the city's diversity of industries, plethora of cultural attractions and appeal to investors."
And just as Hana at Windmill Green pays tribute to the design ethos of its base building, Hana at St. Peter's Square draws design cues from the Barings' Landmark development.
Case in point: This Hana location will feature a publicly accessible café on the ground floor of the base building — in addition to expansive workspaces, private offices and on-demand meeting rooms.  
In both of our Manchester locations, we're looking to redefine what flexible workspaces can be and give professionals and enterprise companies a better way to work in one of the U.K.'s most dynamic urban environments.
Take a virtual tour of Hana at Windmill Green — and learn more about what makes it and our upcoming location at Barings' Landmark development special.