Hana opens two new London locations in Hammersmith & the Square Mile
245 Hammersmith and 70 St. Mary Axe are Hana's latest London locations.
The furniture has been arranged, the teas stocked, and the AV systems fully connected. Now, we're thrilled to officially announce the openings of our two new London locations, Hana at 70 St. Mary Axe in the Square Mile and Hana at 245 Hammersmith in Hammersmith, London.
On opposite sides of London, each location features Hana's unique mix of private suites, on-demand meeting rooms and coworking spaces — with a unique local design in each space. These new workspaces mark Hana's second and third locations in London respectively after the opening of Hana at St. Martin's Court in 2019.
Let's explore what makes each building unique — and why we're delighted to open in these locations.
A Sneak Peek Inside Hana at 70 St. Mary Axe

 A view from outside a window in Hana at 70 St. Mary Axe in the City of London
Between its unbeatable location, superb Class-A development and enviable environmental credentials, 70 St. Mary Axe was an obvious London destination for Hana. (More on that below.)
"We were immediately drawn to the dynamism of 70 St. Mary Axe," says Paul Nellist, Hana's EMEA Managing Director. "It presents an eye-catching addition to the Square Mile's skyline and a prime place to grow Hana's flexible workspace solution in London."
What's Unique about 70 St. Mary Axe 
Originally conceived as a new icon for London, 70 St. Mary Axe boasts a distinctive and instantly recognizable curved shape.
Inside the lobby, you'll find an impressive spiral staircase, which takes you directly to Hana. In total, Hana occupies almost 50,000 square feet of space across the second, third and fourth floors of 70 St. Mary Axe. 

A Hana Team private office suite in 70 St. Mary Axe in London
Across all three floors, 360-degree panoramic windows offer some of the most enviable views in London, from a close-up of the Gherkin to the rest of the city's iconic skyline.

A Hana Share common space with working booths in 70 St. Mary Axe in London
Sustainability & Wellness at 70 St. Mary Axe
For us, one of the biggest draws of 70 St. Mary Axe is its focus on sustainability and wellness. The building itself boasts BREEAM Excellent, EPC Rating A and Wiredscore Platinum credentials.
70 St. Mary Axe also offers a number of fantastic wellness benefits for Hana members that include:
328 cycling spaces on-site
Bike repair zones
Showers & 360 lockers
Fitness and wellness classes
A Distinctive Address in London's Square Mile 
Hana at 70 St. Mary Axe offers easy access to some of London's best bars and restaurants — plus, great connectivity to greater London and beyond.
Leadenhall Market is a great destination for food, drinks and boutique shopping. SUSHISAMBA is also just around the corner, and we love the dining options at City Social, The Ned, and the Kitchens at Spitalfields for a quick lunch.
Nearby transit options include:
Liverpool Street, Aldgate, Monument, Moorgate Tube Stations
Moorgate and Cannon St train stations
The Elizabeth Line (Crossrail), which is opening soon
A look into Hana at 245 Hammersmith
In greater London, Hammersmith stands out for the number of businesses that call it home. From Virgin Media to Disney and L'Oreal, Hammersmith is full of big names and big players.
So, we jumped when we discovered plans for 245 Hammersmith, a new building with a distinctive red exterior, its own Urban Park and 242,000 square feet of space.
The result is Hana at 245 Hammersmith, a spacious mixed-use development of private offices, meeting space and coworking across the first and second floors of a truly unique building in West London.
What's Unique about 245 Hammersmith
Developed in 2019, 245 Hammersmith cuts a distinctive figure with an eye-catching red exterior and its own urban park big enough for 150 city buses.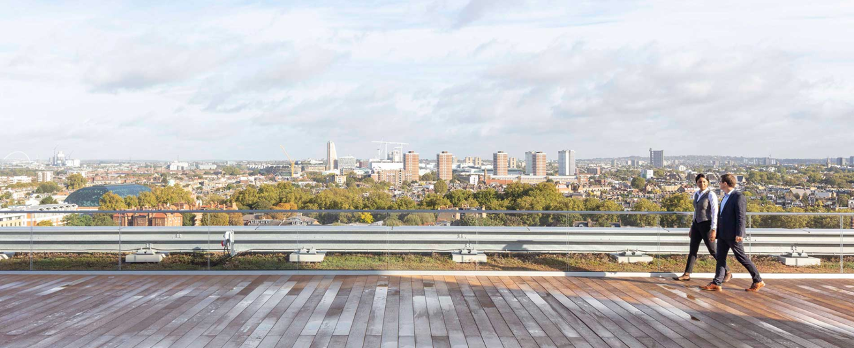 A view from a private rooftop terrace at 245 Hammersmith in London
Inside, you'll find a nearly 8,000 square foot lobby, complete with a full café and a concierge desk.
From the lobby, you can either take the lift or direct stairs up to Hana's private offices, on-demand meeting rooms and sophisticated shared workspaces.
Across these workspaces, you'll find little things — such as meeting rooms named after famous people from Hammersmith — and big things including an in-unit hospitality team and amenity hub designed to make your workdays simpler and more productive.  
Sustainability & Wellness at 245 Hammersmith  
With BREEAM Excellent, EPC Rating B and 150 square meters of photovoltaic panels, 245 Hammersmith epitomises what it means to be a sustainable building.
Hana members at 245 Hammersmith also get a raft of wellness benefits unique to this location, including fitness classes to premium changing facilities.

An entry to Hana Team Studio offices with a common area outside in Hammersmith, London.
Here are some of the biggest benefits for members:
Health and wellness classes including yoga, dance, Pilates and meditation sessions
414 bicycle racks, showers and changing rooms for commuters
An events space that plays host to live music (including 'Sofar London'), theatre, art exhibits, and pop-up events.
An in-lobby coffee shop called Café 245, which offers beverages and freshly baked goods
Regular pop-up markets and food trucks

A shared lounge in Hana at 245 Hammersmith in London.
A Central Location in West London
245 Hammersmith puts you in easy access of great restaurants, pubs, theatres and plenty of transport options.
Some local favourites include Villagio, Kenta and the Blanche Eatery, all of which offer fantastic lunch and dinner options. A 10-minute walk will take you directly to the Thames where you can find the Lyric Theatre and the Michelin-starred River Café, which overlooks the river.
Nearby transit options include:
Hammersmith Tube Station & overground
The Hammersmith Bus Terminus
The M4 and A4 motorways
London Heathrow Airport, which is just 30 minutes away
Two new ways to work in London
From Hammersmith's growing business hub to the vibrant and historical financial district in the City of London, Hana at 245 Hammersmith and Hana at 70 St. Mary Axe represent two new destinations for business in London.
And these new locations are just the start.  Learn more about how Hana is reworking flexible workspaces for high-growth and enterprise-sized companies.