Hana opens second US flex space location in Irvine, CA
The blueprints are wrapped up, construction is finished — and as of this week, we have officially opened Hana at Park Place in Irvine, CA. 
Stretching across 60,000-plus square feet, Hana at Park Place marks our second U.S. location to open and our first on the West Coast. The fact that this is our first West Coast location and in Southern California? We leaned into that when we designed this space, striving to pay homage to the natural brilliance of the surrounding area.
That's apparent as soon as you walk inside. The entry of Hana at Park Place features a stunning one-of-a-kind planter, stretching out in a unique triangle shape — and surrounded by café seating options (which are helpful since a gratis café is just steps away).
The Hana Hub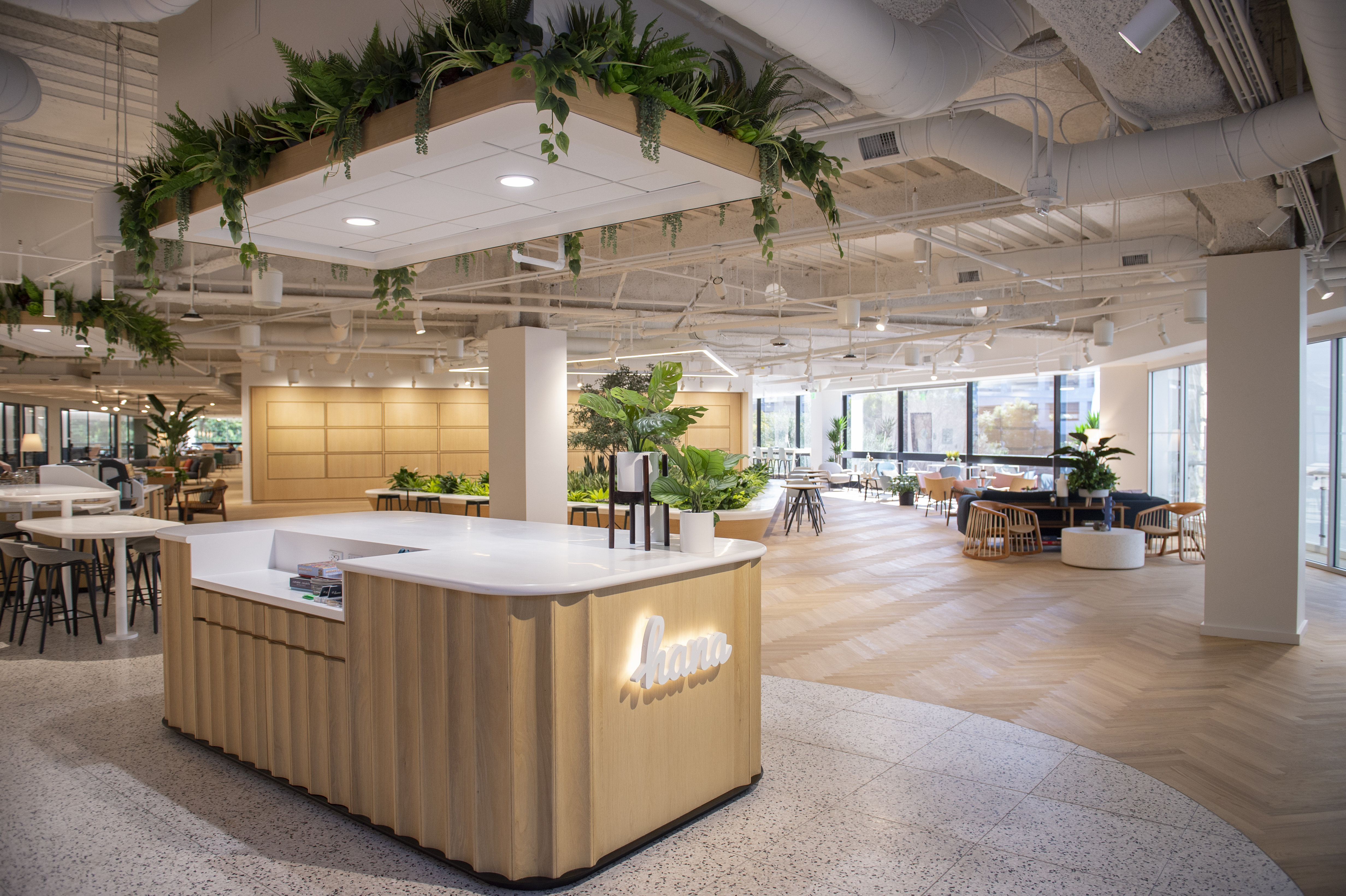 The entrance at Hana at Park Place features a concierge desk, a self-serve café, a retail market and plenty of seating to sit with a morning coffee, take a mental break, or wait for a colleague. 
"This entrance was intentionally designed for its impact and to give you a sense of space," says Brian Harrington, Hana's Chief Experience Officer. "It also has the advantage of close proximity to the building's public atrium, plus a huge amount of natural light."
The entry serves as a centralized concierge desk and amenity hub. Off to the side, you'll find our front desk and hospitality team, which offers an array of concierge services ranging from helping you around to the workspace to arranging gourmet catering orders.
You'll also find a retail market with grab-and-go refreshments and a complimentary café with still and sparkling water taps, an espresso tap, tea and coffee selections — plus crafted snacks for good measure.
"The entry, in many ways, acts as a physical introduction to Hana, tying our amenities, hospitality services and workspaces into one place," Harrington says. "You get the full Hana experience the moment you walk through the door in a really unique way."
3 Unique Workspace Solutions at Park Place
Like all Hana locations, Hana at Park Place offers a unique mix of private offices, on-demand meeting rooms and coworking spaces, giving professionals the flexibility to choose anything from a monthly coworking membership to leasing their own private office suite.
Hana Team
A private office suite at Hana at Park Place. Offices can fit 1-300+ people and offer private lobbies and optional internal meeting rooms, plus plenty of unique branding options to reflect the culture of the occupier.
Our core offering at Park Place is Hana Team, which provides private flexible offices that range from studio spaces for 1-10 people all the way up to private office suites that can between 300+ people.
Each Hana Team suite is designed to address the needs of high-growth and enterprise-size companies, combining rich amenities, best-in-class technology and high-touch hospitality services while giving the client control over the branding and design of the office itself.
Hana at Park Place also features Hana Share, our coworking and shared workspace offering which features monthly membership options, and Hana Meet, which offers on-demand meeting and conference rooms.
Across these workspaces, our design team has prioritized the big and little things we've found professionals want in their workspace like great acoustics, an abundance of natural light, the right mix of amenities and great places to work.
"Our entire brand is focused on professionalism and productivity and it is the details that oftentimes go unnoticed that set us apart," says Alex Romiti, the General Manager of Hana at Park Place. "Acoustics, natural light, power, and color are just a few of the thoughtful productivity tools that are part of Hana's design."
Hana Meet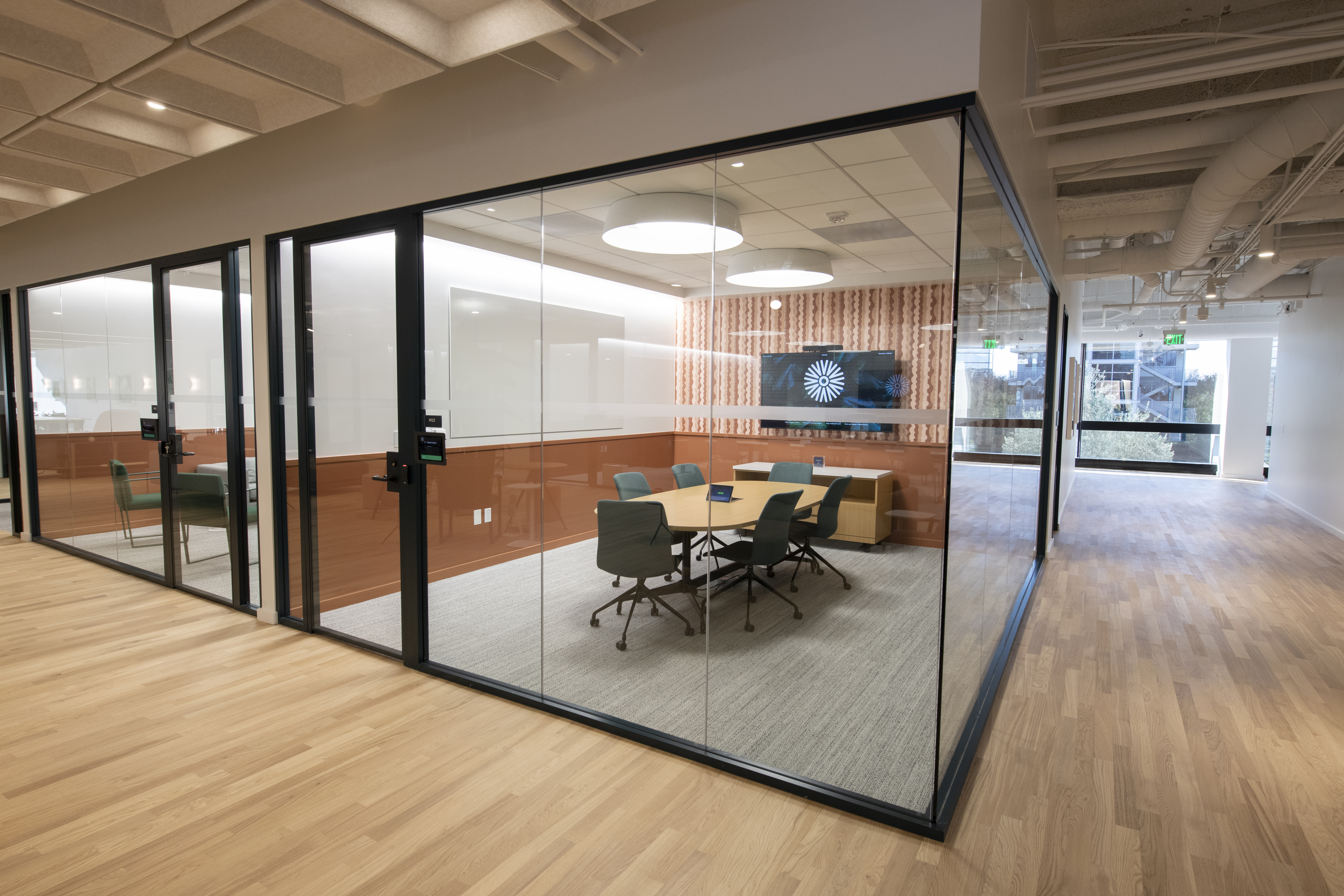 One of more than 20 on-demand meeting spaces at Hana at Park Place. Each room offers video conferencing and screen sharing, as well as unique designs suited to everything from one-on-one meetups to client pitches and all hands meetings.
Hana Share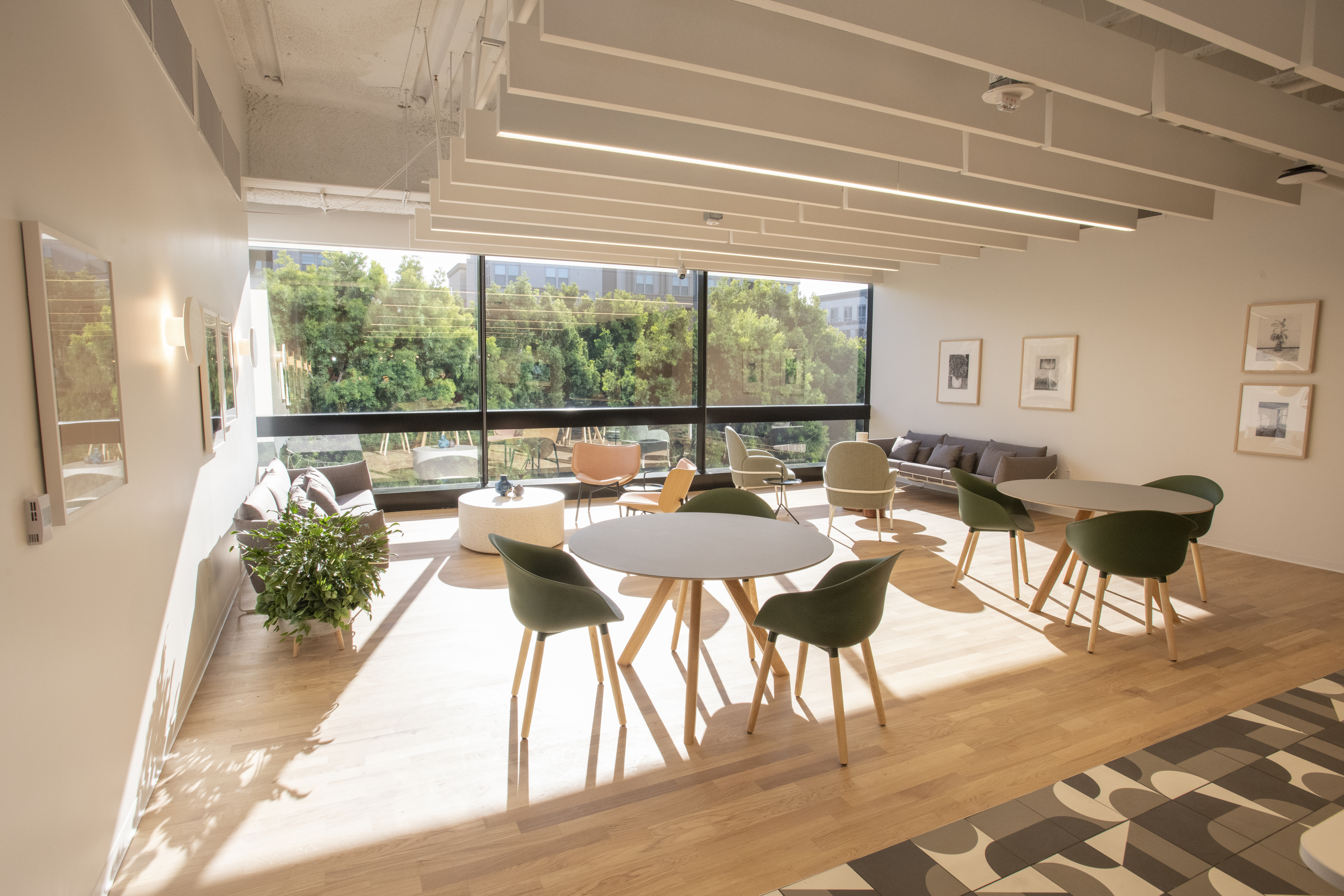 A quiet shared workspace at Hana at Park Place, designed for heads-down work. This is one of many coworking spaces at Park Place, available by a Hana Share monthly membership. Coworking memberships also come with all-inclusive amenities at Hana.
A Prime Irvine Location
They say location is key and Hana at Park Place takes that seriously, benefitting from a Class-A location on an expansive campus that features everything from dining options and retail outlets to business centers — and right in the heart of Irvine's business district.
That prime location and forward looking vision is part of the reason we partnered with the Park Place developer LBA Realty, which has created a remarkable live-work-play development. 
On-site amenities a coffee bar, dry cleaning service and an upscale fitness center (plus a number of nearby running trails). What's more, Park Place is a five-minute drive from John Wayne Airport, offering easy access to regional and domestic flights. (It's also just a few miles from the California coast — and 20 minutes from Disney Land, in case you're in need of a midday reprieve).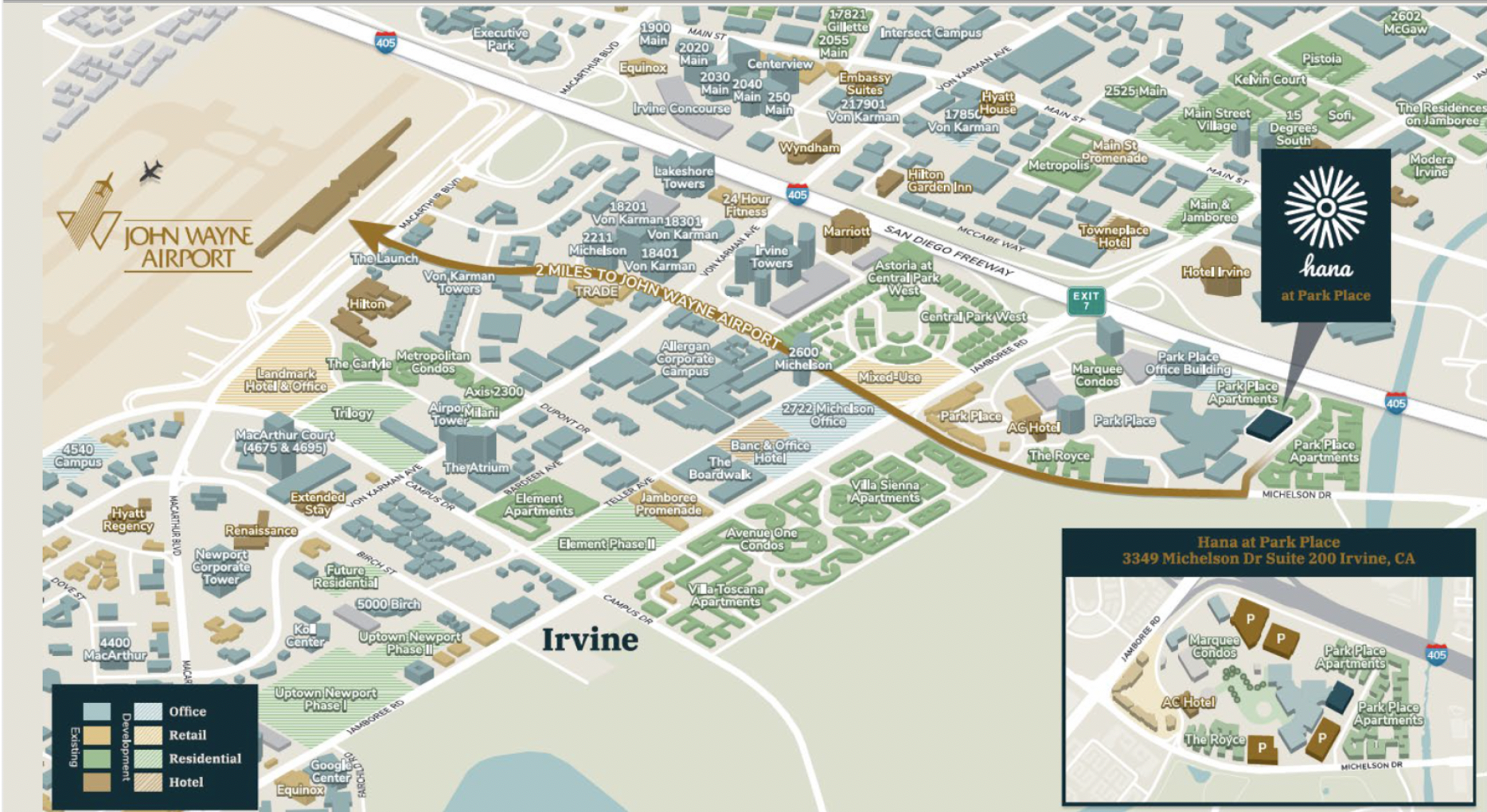 "Park Place truly offers our members a central foothold in Orange County," says Romiti. "The local community has already shown an overwhelming amount of interest and enthusiasm for our space and it feels great to be a welcome member of not only Park Place, but Orange County as well.
A Better Way to Work in Orange County 
We started Hana with a single mission: To build space where people with purpose could accomplish great things. That led us to think through the entire workplace experience, paying attention to everything from the design to the amenities to the role hospitality plays in your workday.
Hana at Park Place stands as the culmination of these efforts, offering high-class office space designed to help professionals and businesses succeed.
"My team and I are dedicated to delivering our Hana Members everything they need to accomplish great things," says Romiti. "That means everything from ensuring that the music and temperature are at the perfect level to offering concierge service throughout the workday and being there to help answer any questions."
Looking for a better place to work? At Hana, we're building sophisticated flexible office spaces with a big focus on ergonomic comfort. Learn more today & drop us a line.