It's official: Hana launches its flagship location in Dallas, TX
After renderings and blueprints, construction crews and tech installation teams, it's finally here. This week, we're proud to announce the launch of our flagship Hana location at Park District, right in the heart of Dallas.
Spanning three stories of the PwC Tower, Hana at Park District represents the culmination of extensive research into what today's occupiers and professionals need most from a flexible workspace. From its initial inception to this week's official opening, we've been laser-focused on crafting an environment uniquely tailored for success.
Let's dive into why we're so thrilled to introduce Hana at Park District — and why we think it sets a high bar as we move forward.
Ideally Located in Dallas, TX
When we say we built our first location in the heart of Dallas, we mean it.
Located at the intersection of Uptown, Downtown and the Dallas Arts District, Hana at Park District sits in PwC Tower, right across the street from the renowned Klyde Warren Park. And in a city known for its largesse, PwC Tower stands tall.
With neighbors ranging from the Dallas Arts Museum to the Winspear Opera House, PwC Tower gives you easy access to some of Dallas' premiere cultural attractions. Plus, the famous Deep Ellum neighborhood and its famous music venues is just a short walk away.
"When we were thinking of where our flagship location would be," says Hana CEO Andrew Kupiec, "Park District was at the top of our list. It's an undeniably beautiful building in an enviable location in the Dallas metroplex."
The building itself offers a sophisticated experience the moment you walk through the door with a gleaming white and wood-built lobby and sizable front desk. PwC Tower also boasts a state-of-the-art fitness center with full locker rooms — and balconies that offer sweeping views of the Dallas skyline.
More than a Coworking Space 
As the elevator door open to Hana, the first thing you'll notice is the Hana Hub, which marks the center point of the Hana experience with our dedicated hospitality team standing at the ready and lounge space to help you start your day.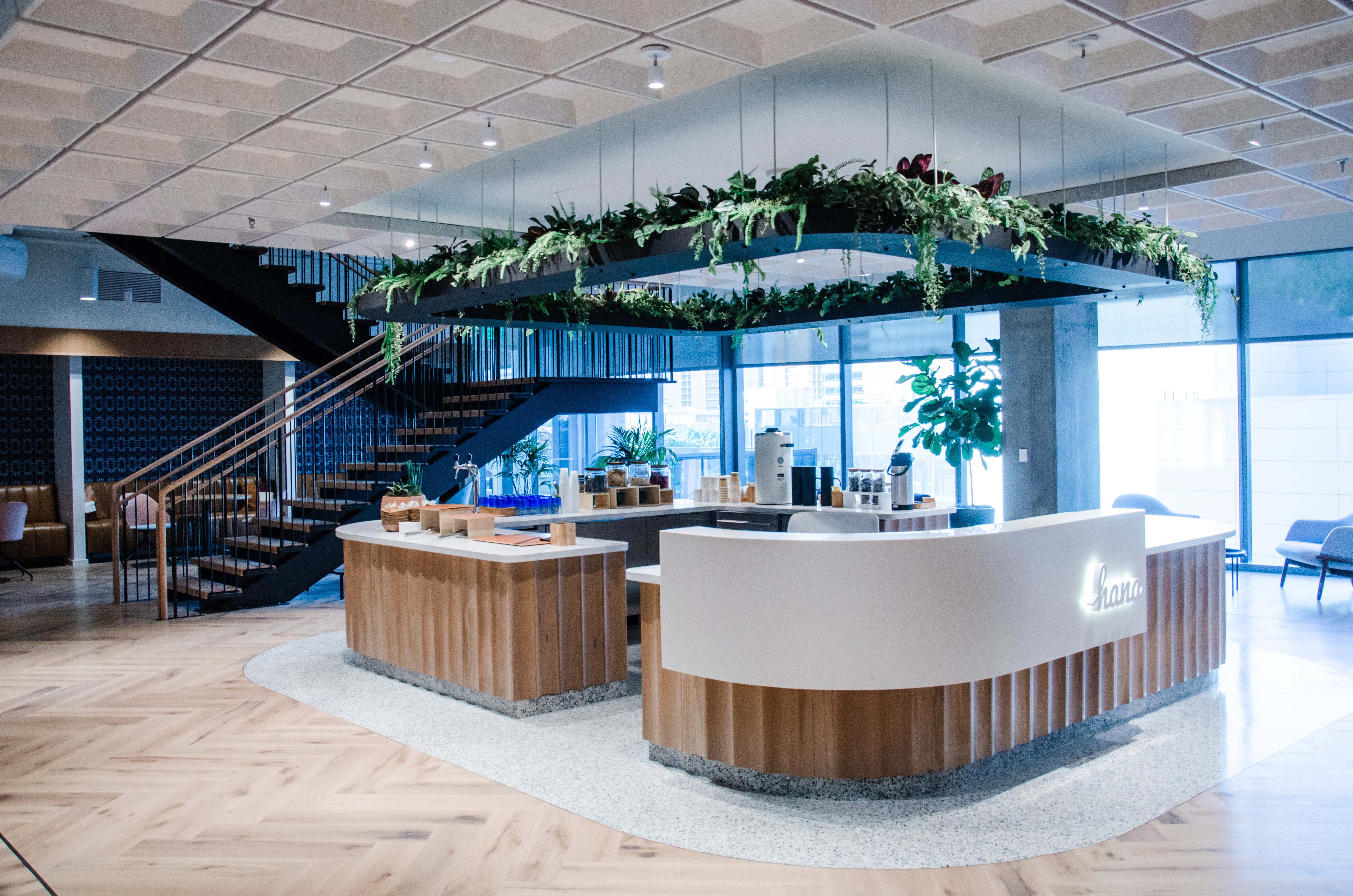 At Hana, we take pride in offering a variety of workspaces that meet the unique needs of individuals and teams — and our flagship location at Park District exemplifies this.
We've designed three workspaces — Hana Team, Hana Meet and Hana Share — which artfully combine thoughtful design, cutting-edge technology and premium amenities.
Here's what these three workspaces look like in practice:
Hana Team: Private Flexible Offices 
With Hana Team, we design, build and manage private office suites configurable in-suite meeting room arrangements. Built around the unique brand of the occupier, these office suites proudly feature laser-cut logos, art walls and other personalized details.
At Park District, our Team suites represent the culmination of researching exactly what enterprise and high-growth teams need most in an office — and a listening tour of what professionals say they want most in their workspaces.
The biggest requests? Ergonomic furniture, acoustic comfort and dedicated climate control. To that end, every Team suite comes with Herman Miller sit-stand desks and chairs, sound-masking technology and acoustic design to reduce ambient noise and dedicated climate control for increased comfort.
Each office suite can fit 1-300+ people and are fully configurable to a team's needs. 
Hana Meet: On-Demand Meeting Rooms 
Sometimes you need a place to meet that has more than a table and chairs. We understand. And that's why we've designed Hana Meet at Park District with an emphasis on giving you the tools you need to discover success.
Featuring on-demand meeting rooms available by the hour, day, or week, Hana Meet offers a variety of spaces that range from private lounges to conference and pitch rooms. Each space features commercial-grade furniture and top-of-the-line enterprise technology (including Zoom video conferencing gear, Barco screen sharing tech and reservable interactive whiteboards).
At Hana, we believe technology and design should complement one another. This is something we put into practice across our meeting spaces at Park District, accentuating the design of each room with hassle-free technology to help groups connect, collaborate and perform.
Hana Share: Coworking Space, Reimagined
Sometimes the best way to work is with others and at Park District, we realize this vision in a unique way with Hana Share, our flexible shared workspace.
Our research showed people valued quiet and private spaces when working in an office — and we responded to that. At Park District, we've cordoned off sections of our coworking space to house our quiet areas and private focus rooms, which are acoustically treated and intended for heads-down work.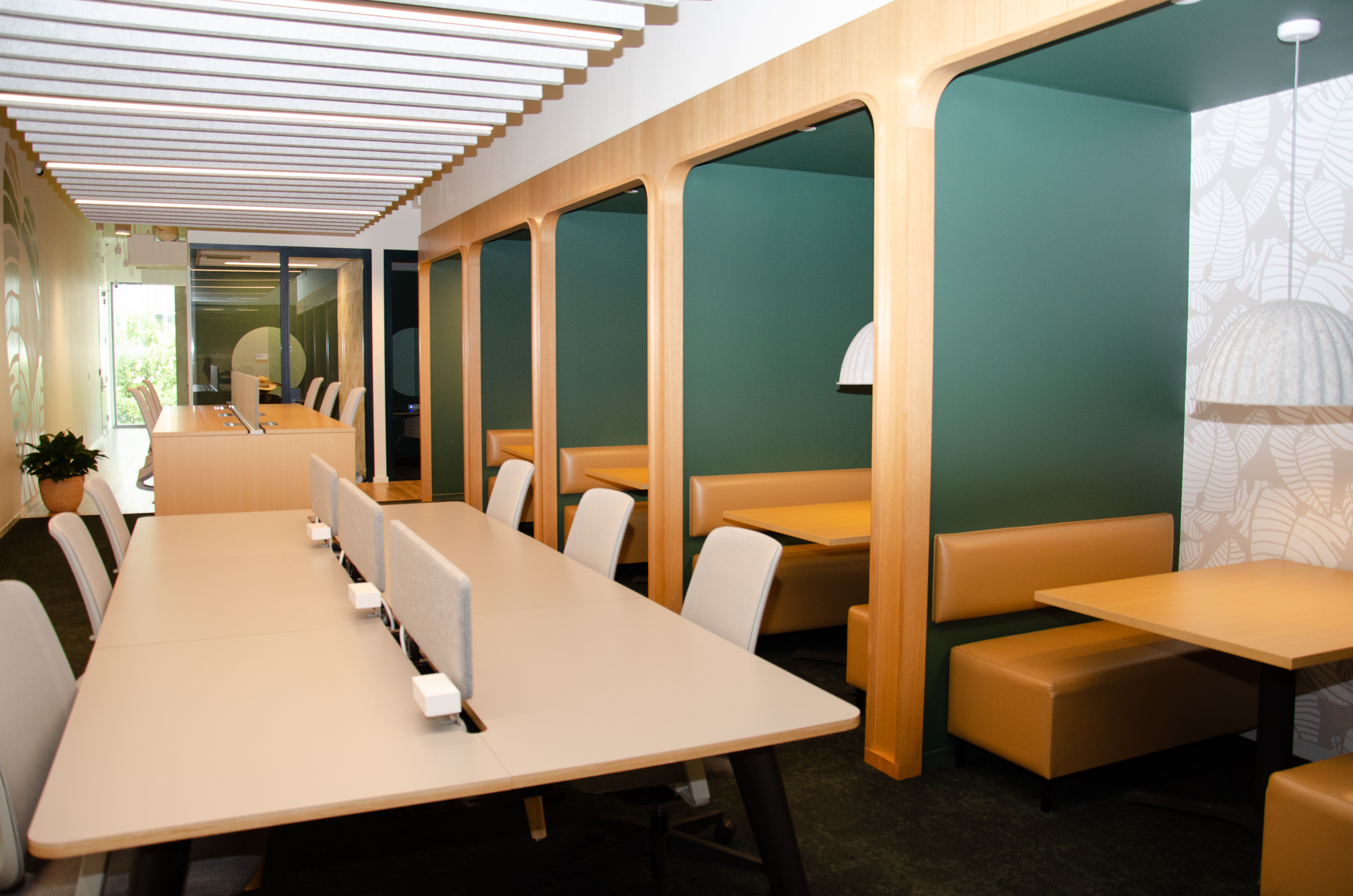 But we also cater to people's want for high-touch amenities. Hana Share members at Park District. can choose between a retail market stocked with local foods and must-haves, a self-serve café with espresso and sparkling water on tap and an array of comfortable lounges in our central Hana Hub to sit down at and unwind.
Everything You Need to Get Work Done
At Hana, our mission is simple: We want to create spaces where people with purpose can accomplish great things. Our flagship location at Park District sets the bar for this standard.
As we officially open our doors this week in Dallas, we couldn't be more excited to welcome new members and guests into our space. Every inch and every detail at Hana at Park District have been carefully considered and designed to help people and teams accomplish great things.
And that's a mission we're just getting started on.
Looking for a better place to work? At Hana, we're building premium flexible office spaces with a big focus on ergonomic comfort. Learn more today & drop us a line.