Hana is coming to National Landing in the D.C. Metro
We're thrilled to announce our first East Coast location — and sixth location — at the new and transformative National Landing development in Arlington, VA.
Ever since National Landing was announced in November 2018, it's been one of the most talked about developments in the United States.
Between being the new home of Amazon's much heralded HQ2 and representing a significant redevelopment of Arlington, VA's Crystal City and Pentagon City neighborhoods (plus, part of Potomac Yard in Alexandria, VA for good measure), National Landing marks a major turning point for the Washington D.C. metro area.
That's why this month, we're thrilled to announce Hana will be the preferred flexible workspace provider in National Landing where we'll partner with the developer JBG Smith to offer our unique mix of private offices, on-demand meeting rooms and coworking space.
Hana at National Landing will be located at 2451 Crystal Drive, an 11-story building with almost 400,000 square feet of office space. The building features a fully renovated lobby, on-site childcare, a high-class fitness center and an array of on-site and nearby restaurants and retail offerings.
Hana will stretch out across 40,000 square feet of this building with private offices, on-demand meeting and conference rooms and coworking space coupled with striking views of the Washington D.C. and Arlington skylines.
National Landing will be our first East Coast location — and sixth overall location — and we couldn't be more excited to offer D.C. area professionals, high-growth businesses and enterprise organizations a new way to work in the metro area.
We also couldn't be more excited to partner with JBG SMITH as it brings the new National Landing development to life.
Speaking with the press, JBG SMITH's Executive Vice President David Ritchey offered some kind words: "JBG SMITH is pleased to welcome Hana to the East Coast and to the rapidly growing and diversifying National Landing neighborhood following Amazon's HQ2 announcement. We believe Hana's unique approach to adaptable workspaces and highly amenitized office space aligns perfectly with industry trends and is complementary to National Landing's existing offerings."
In truth, JBG SMITH's vision for National Landing drew us to this partnership opportunity in a big way.
Beyond representing an expansive new business district for Arlington, VA, National Landing also marks a transformative development for a key swath of the D.C. metro. JBG SMITH has planned out new residential units, retail offerings and improvements to the local sidewalks and parks.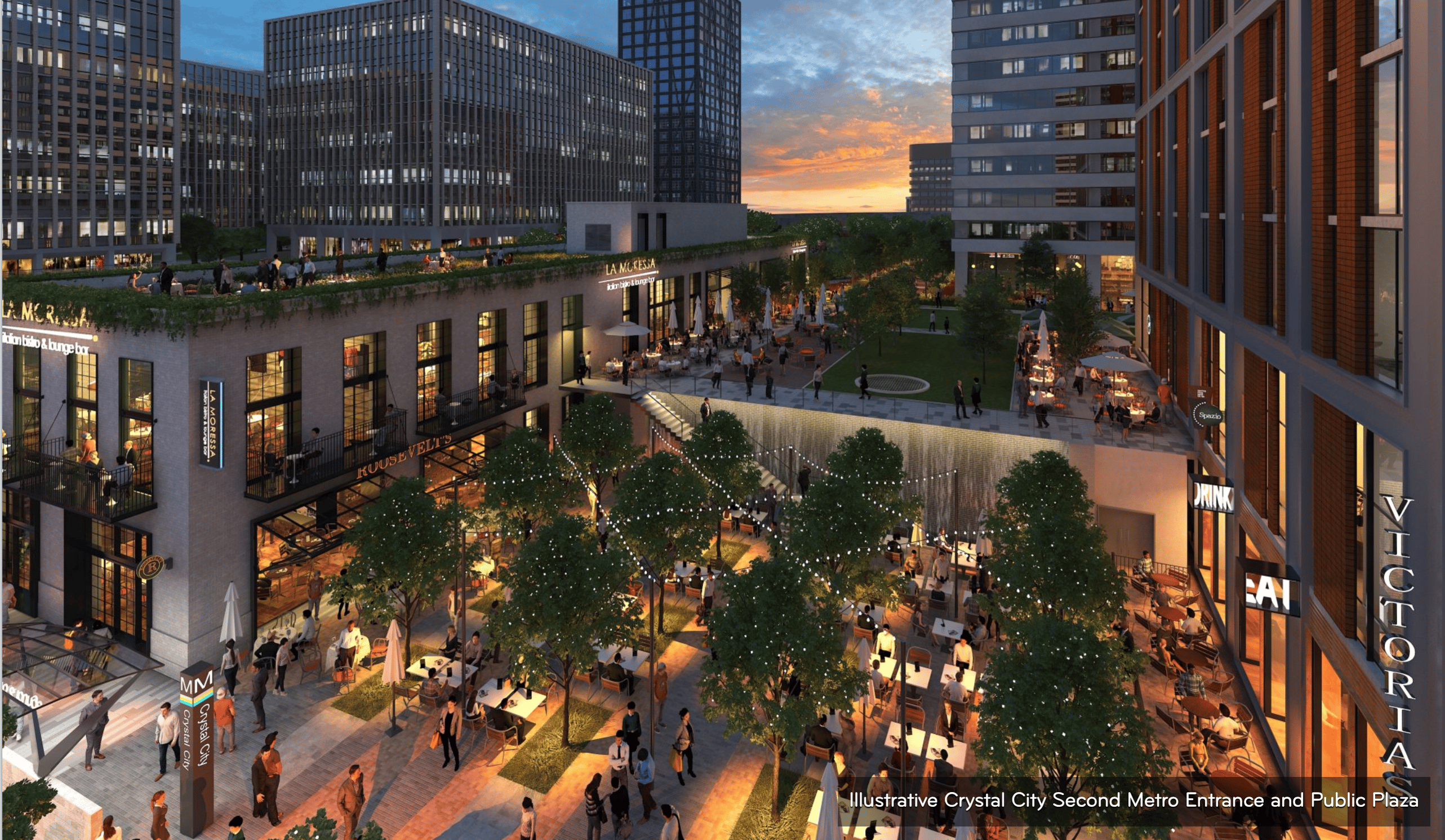 Image credit: JBG SMITH
Plus, with Reagan National Airport accessible via a new pedestrian bridge, three Metro stations and a Virginia Railway Express Commuter line, National Landing is directly plugged into Washington D.C. and Northern Virginia.
This vision for a connected and modern work-live-play development in a major metro area makes National Landing unique. It also makes it an incredibly exciting place to build out our first East Coast location.
"Hana is thrilled to partner with JBG SMITH for our first East Coast location at National Landing surrounded by fantastic amenities available to Hana members and a dramatic transformation occurring within the neighborhood," said our CEO Andrew Kupiec in notes to the press.
And we couldn't agree more.
Our announcement has already made some news in the Washington Business Journal, Globe Street and CoStar, among a few others. And that's for good reason: National Landing stands as a key transformation point for the D.C. metro, and is set to affect big changes in Arlington, VA. We're thrilled to be able to play a role in that change.
Learn more about Hana at National Landing in Arlington, VA and see our unique flexible workspaces are tailored for professionals who expect more from where they work.