Hana announces first management agreement with Connell Company
Recently, we announced a new agreement with The Connell Company to manage and operate Round Table Studios, a new and expansive flexible workspace in Berkeley Heights, New Jersey. 
When The Connell Company shared its plans with us, we knew this was a project we wanted to be a part of. As our first owner-branded and fully managed solution, Round Table Studios demonstrates our commitment to help landlords realize their flex space aspirations. 
And The Connell Company has big aspirations for Round Table Studios. 
"Our vision was to create a place in the suburbs where people can live and work in a balanced, healthier, more productive way," says Shane Connell, the Executive Vice President of the Connell Company. 
Here's a few reasons we're excited to partner with The Connell Company and bring Round Table Studios to life. 
A remarkable campus and 4 unique ways to work at Round Table Studios 
Situated on The Park campus, Round Table Studios stretches across an expansive 40,000 square feet of office space. But the term 'office space' alone fails to capture the essence of this unique property. 
"Round Table Studios is more than a place to work," says Andrew Kupiec, Hana's Chief Executive Officer. "It's not an overstatement to say that The Connell Company is completely reimagining what the workday experience can and should be." 
That's apparent as soon as you step onto the property when a recently renovated outdoor working area greets you. Called The Grove, this outdoor area is a perfect spot for casual meetings, working lunches, or a respite from the workday.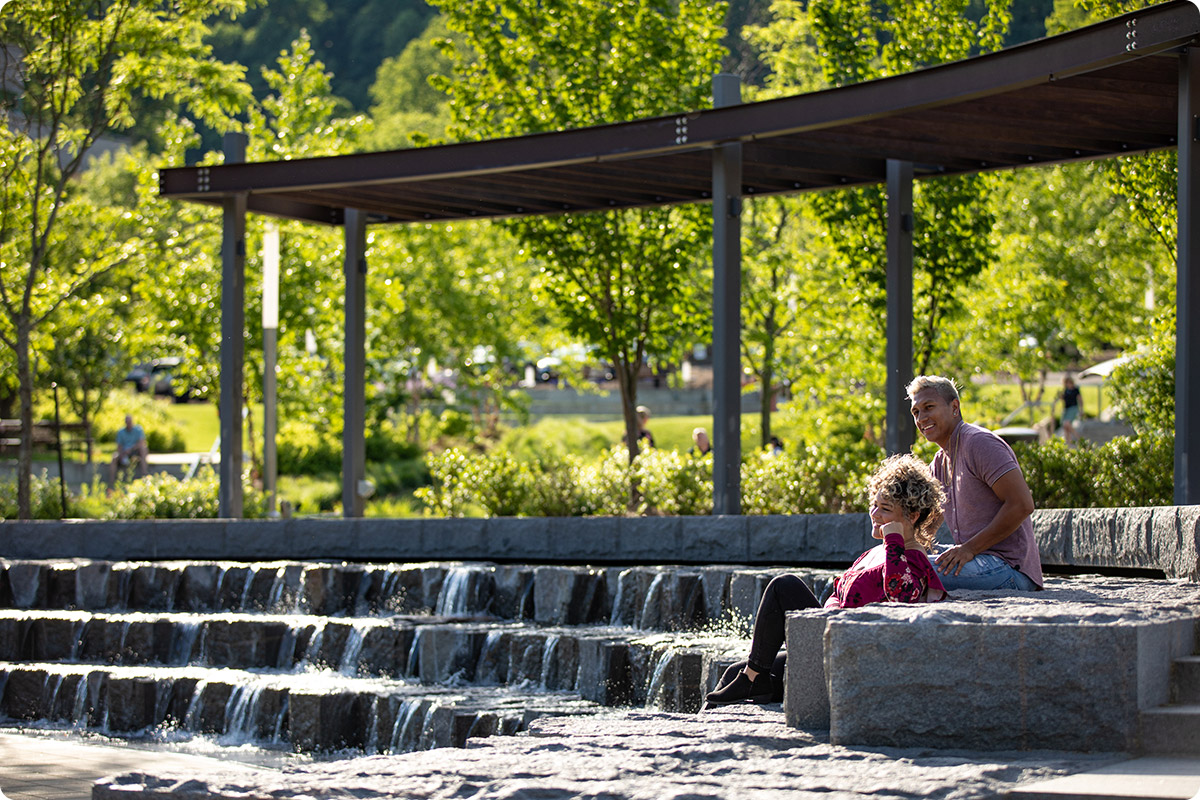 The Grove, an outdoor workspace at Round Table Studios.
Inside, you'll find a modern lobby — and the first of two floors of Round Table Studios.
"As you walk inside, you'll immediately find Round Table Studio's Gallery offering, a sophisticated coworking space available via membership," says Shane Connell. "This is just one of two coworking memberships Round Table Studios will offer. The second membership option, called Library, affords you access to the second floor of coworking space, which offers urbane spaces and direct entry to the evening bar."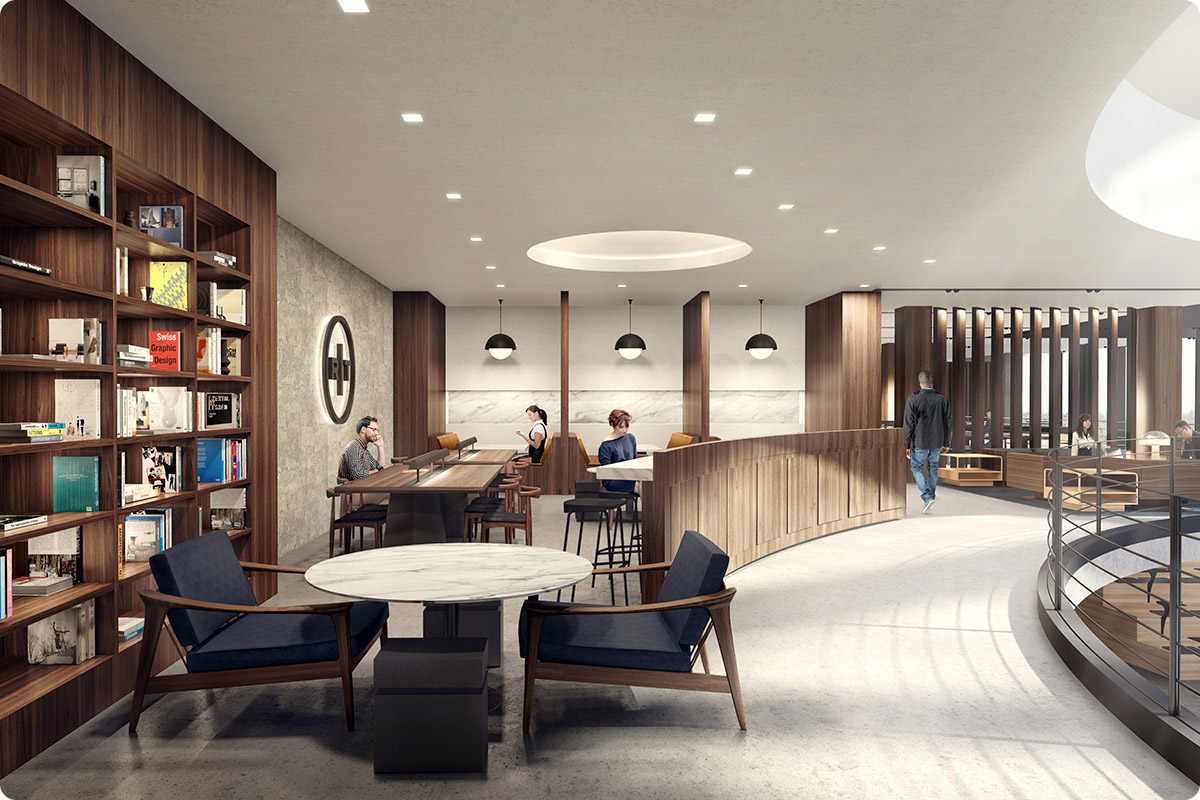 A rendering of Round Table Studios coworking space.
It's on this second floor where you'll also find the other two flexible workspace offerings: Studio, which features private offices for small and large teams with space for up to 300+ people; and Meeting Rooms, which offer on-demand conference and meeting space for members and the wider public. 
A holistic approach to wellness
But where Round Table Studios truly stands apart is in its commitment to wellness. Case in point: Members have access to a 12,000 square foot gym called the FIELDHOUSE, which offers fitness facilities, a gaming room and on-site fitness classes and instructors.  
"Round Table Studios is designed to promote a life-work balance through curated office space, culinary, nutrition, fitness, wellness and event offerings," says Shane Connell of The Connell Company. 
That's readily apparent across the workspaces and campus. Members have access to a bevy of wellness amenities including an on-site Eden Health Clinic, which offers behavioral therapy, physical therapy and concierge services. Members also have access to an on-site nutritionist service, which offers consultations. 
"What really stands out about Round Table Studios is the commitment to wellness," says Kupiec. "It's immediately apparent that The Connell Company deeply cares about hospitality — and making members want for nothing." 
Library and Studio memberships also offer access to a full array of amenities that include a Social Club with an evening bar, a full-service cafe with barista services and an executive chef who runs the club's restaurant (Round Table Farm) and offers catering services. All members have access to the base building Counter Market Cafe, which offers hot meals for order.
Outside, members will have access to on-campus trails and parks — and the sweeping FIELDHOUSE, which offers 12,000 square feet of fitness facilities and classes.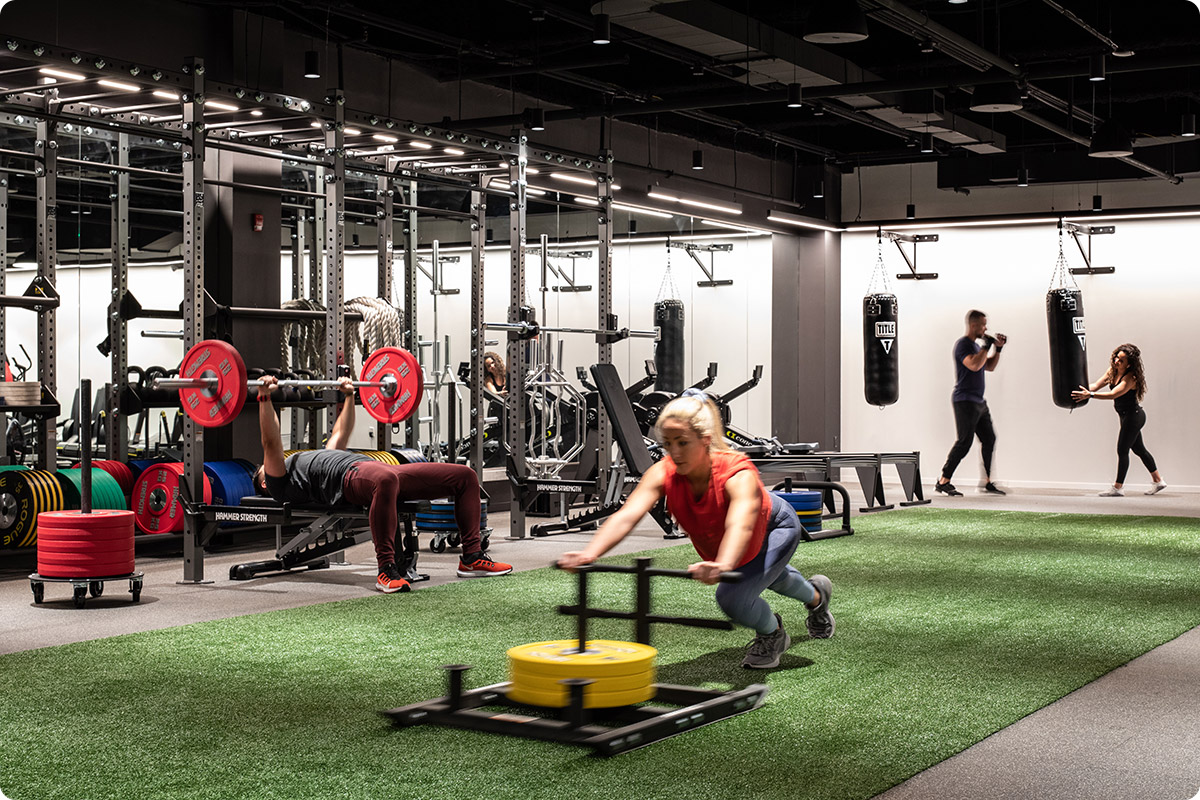 The FIELDHOUSE at the Park is a 12,000 square foot fitness facility available to Round Table Studios members.
"The Connell Company has put a fine touch on ensuring club members have incredible places to work and live," says Kupiec. "It's truly an oasis that brings together everything a professional or enterprise team would want in a workplace." 
A prime location in northern New Jersey
They say location is key — and that couldn't be more true at Round Table Studios. Located in the suburbs of northern New Jersey, the campus sits just 22 miles from New York City and offers easy access to the NJ Transit Berkeley Heights and Summit stations. Moreover, I-78 is just minutes away, offering a direct line into New York City and the surrounding New Jersey area. 
The nearby area also offers an assortment of restaurants such as Trap Rock and Grain & Cane. For guests and clients coming into town, lodging is simple: The Embassy Suites by Hilton is within walking distance from Round Table Studios.
"We have long thought the suburbs represent the next frontier for flex as companies adopt a 'hub-and-spoke' approach, complementing urban hub offices with workplace spokes outside the metro center," says Kupiec. "Now, we're seeing this play out at Round Table Studios. We think Round Table Studios marks a turning point for companies looking to offer their employees and teams more flexibility to work outside the New York metro." 
Learn more about Round Tables Studios and what it represents for Hana and The Connell Company.