Hana announces second location in Manchester, UK
Hana has signed a new management agreement at Barings' Landmark development in Manchester's financial centre.  
This week, we announced a new partnership with Barings, one of the world's largest real estate investment managers, in the city centre of Manchester, England.
This will be our second location in Manchester, one of England's largest urban metros, and will sit inside Barings' new award-winning Landmark office development.  
"We could not be more excited about partnering with Barings, an innovative, institutional landlord at a Class A building that provides the amenities occupiers desire," says Paul Nellist, Hana's Manager Director for EMEA. "This is another great example of how Hana works with forward-thinking landlords to manage their flexible office and amenity space."  
Here are a few reasons why we're excited to partner with Barings as we look to open our second location in Manchester.  
Hana brings upscale flexible workspaces & coworking to Landmark
Located right off St Peter's Square in Manchester's business district, the Landmark building offers 180,000 square feet of BREEAM Excellent and WiredScore Platinum certified office space.
In partnership with Barings, we will manage almost 32,000 square feet of this building, turning it into a new flexible workspace offering under the name Hana at St Peter's Square.
"Across Hana at St Peter's Square, we are developing sophisticated workplaces where occupiers can expect a high degree of hospitality services and high-class amenities," says Nellist.
Like other global Hana locations, Hana at St Peter's Square will feature a number of private offices (Hana Team) that can accommodate between one and 300+ people. Each office will come with an array of branding options for occupiers, enterprise-grade technology and configurable layouts.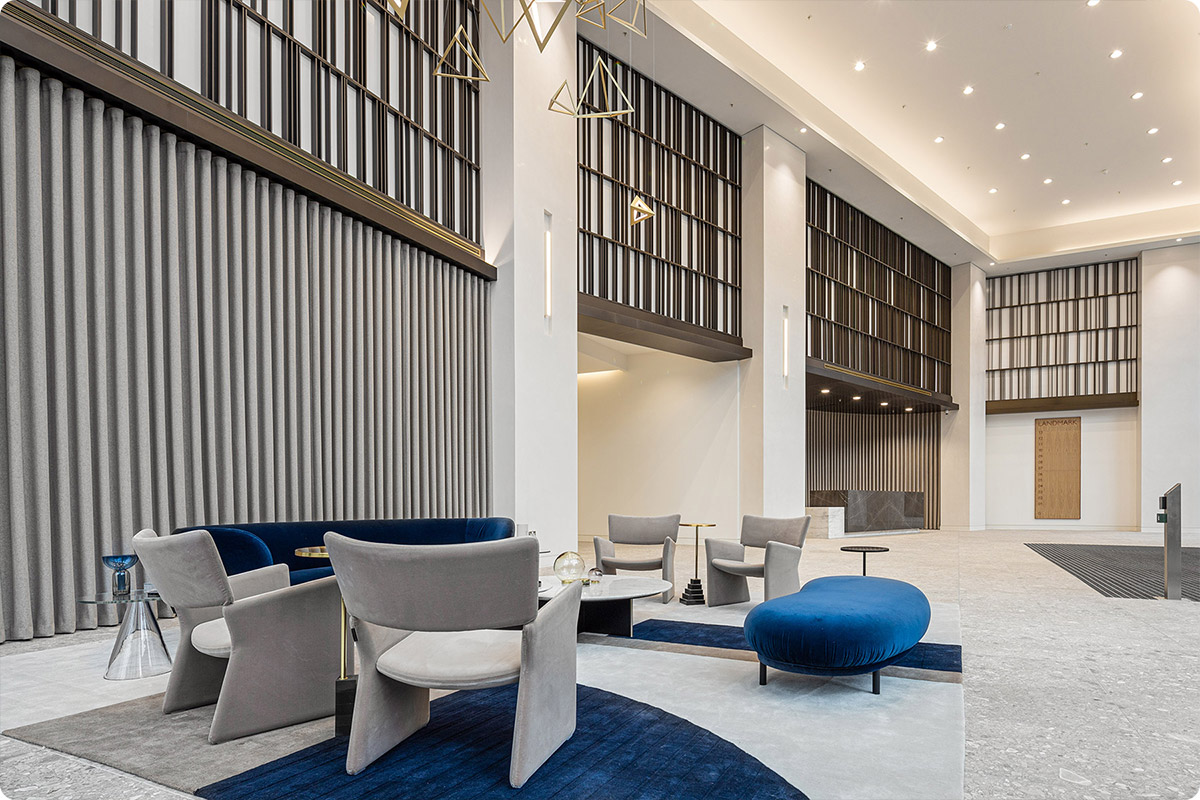 The lobby of Barings' Landmark building in Manchester England.
Hana at St Peter's Square will also offer coworking space for solo professionals (Hana Share) and on-demand meeting space (Hana Meet) that can be let by the hour, day, or week.
"We are incredibly proud to be partnering with Hana, a brand which aligns perfectly with our design strategy and focus on delivering a world-class business environment," says Ian Mayhew, Managing Director at Barings.
He continues: "We recognise that flexible working is effective at every level of a business from individuals to multi-national corporations and in partnership with Hana we look forward to providing this service within Landmark."
And this flexibility for occupiers has never been more important than it is now.
"As the United Kingdom confronts COVID-19, we are seeing a great demand for flexibility and an appetite among occupier and professionals alike for a new way of working," says Nellist. "Hana at St Peter's Square has been designed to enable occupiers and professionals alike to take the space they need when they need it, and we see strong potential in Manchester as we expand our footprint in partnership with Barings."  
Hana's facilities will also benefit building tenants at Landmark with overflow meeting and coworking space and the ability for direct lease occupiers to expand into flexible private offices.
"Hana's workspace experience, which includes conference and meeting room facilities, will also be attractive to occupiers within the rest of Landmark enabling them to easily flex their space requirements up or down in response to increasingly dynamic business needs," says Mayhew.
An award-winning development in Manchester's business district 
When we first connected with Barings, the allure of their new Landmark development was obvious. Beyond its impressive and sleekly modern design, Landmark had already accrued accreditations and awards ranging from a BREEAM Excellent rating to an EPC Rating A.
This focus on sustainability and wellness was clear across the development.
"Barings has created an undeniably attractive office building at Landmark that combines Class-A office space with a commitment to sustainability," says Nellist. "From the investment in photovoltaic panels to produce electricity on-site to the overwhelming support it has received from the Manchester City Council as a key pillar in the St Peter's Square business district, Landmark represents a giant step forward for sustainable design — and a prime place for businesses to grow their footprint in one of Manchester's most exciting locales."  
With 14 floors of office space, Landmark was designed by the world-renowned architectural firm Squire & Partners, which placed an emphasis on connectivity throughout the development.  
That's clear as soon as you enter the building's lobby. With a double-height reception and floor-to-ceiling windows, the lobby offers panoramic views of Oxford Street, one of the city's central destinations for commerce, as well as the famous St Peter's Square.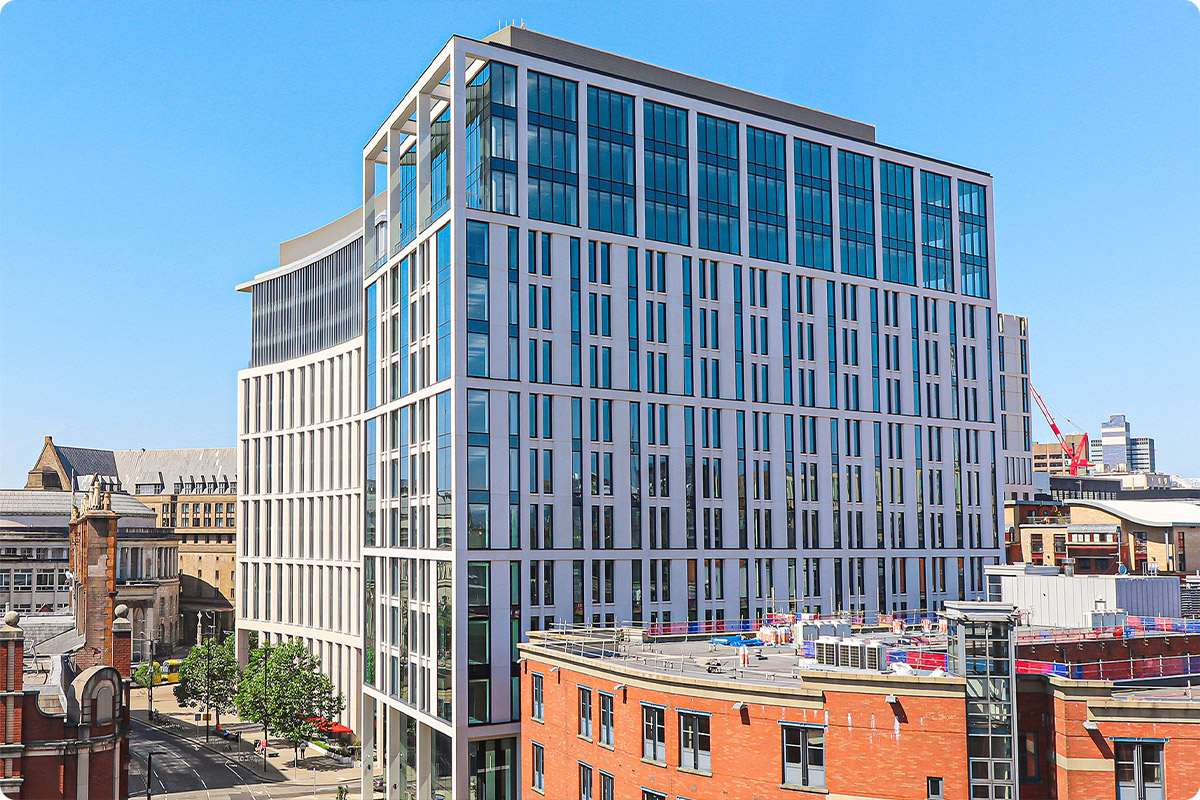 Barings' Landmark building sits in the business centre of Manchester.
"The city's diversity of industries, plethora of cultural attractions and inbound investment makes Manchester an obvious choice for occupiers," says Nellist. "And Landmark offers an ideal place for occupiers to establish a foothold in a thriving metro area."
With on-site electric car charging ports and 112 bicycle storage spaces, Landmark also tips its hat toward the modern Manchester commuter.
"Part of the reason we're thrilled to partner with Barings to bring our second Hana location to Manchester is the incredible amount of energy they have infused into Landmark," says Nellist. "The building caters to professionals who expect more from where they work, and we couldn't be happier to offer occupiers greater flexibility in one of Northern England's premiere cities."  
Learn more about Hana at St Peter's Square and what it represents for Hana and Manchester.