The most common office designs and who they're for
COVID-19 has forced an industry-wide reset on what office space designs makes the most sense for individuals and teams.
Yet despite some headlines, enterprise companies are still investing in office space.
While COVID-19 has proven that remote work works, it's also driven home the importance of office culture — and having a place to work outside the house, at least some of the time.
In a pre-COVID-19 survey of 1,000+ U.S. office workers, we found that 47% of professionals have sought out jobs at companies based on their office design.
That number is likely to increase after COVID-19 as workers look for key elements such as personal and productive spaces and safe, collaborative offices.
Below, we'll jump into what the most common offices are, the pros and cons of each layout and where people tend to work best. This guide includes:
What are the most popular office designs? 
At a high level, the most common office layouts include:
Open floor office plans that feature mostly shared workspaces with a few cubicles or private offices
Semi-open, or hybrid, office plans with a mix of cubicles, shared office space and private offices
Closed workspace plans that focus on private offices and cubicles with few, or little, shared workspaces
Even though open office plans get a lot of press — both good and bad — the majority of workers (68%) work in semi-open or even closed office layouts (more on these designs below).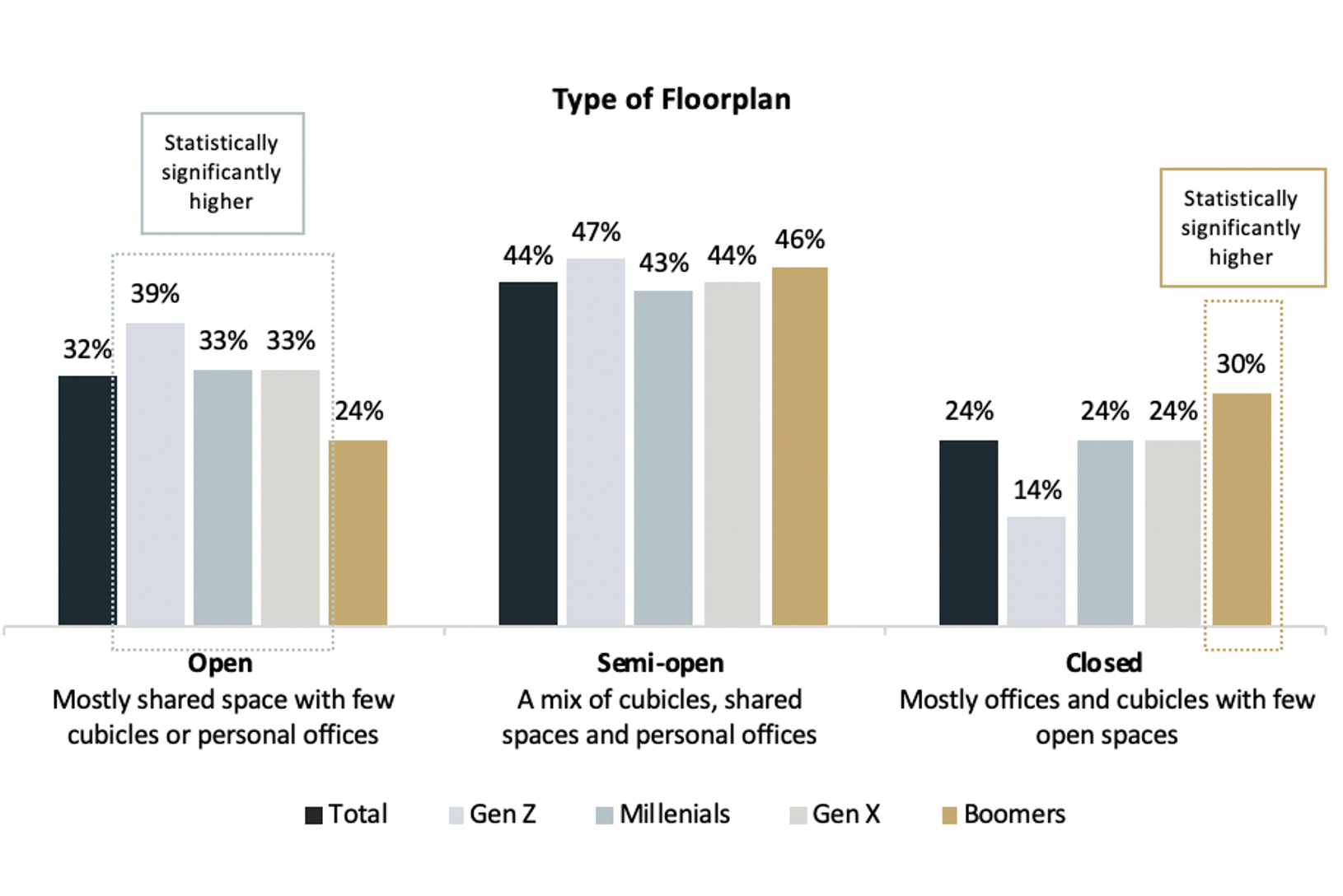 2019 Hana Survey Data of 1,000+ U.S. Office Workers
That means less than a third of workers are working in fully open workspaces. 
In our research, we found Gen Z'ers are more likely to work in open spaces, while Millennials tend to work in semi-open spaces and Baby Boomers more often work in closed office layouts.
While our workspace survey covered the top three office designs — open, semi-open, and closed — we've developed a more thorough list below that examines the pros and cons of a range of different office layouts, and who they're for.
The pros and cons of open office designs
Open offices are defined by their lack of partitions — no cubicles, walls or private offices here. They instead feature large worktables, clusters of desks and other lounge-type seating areas, often in large uninterrupted areas.      
Who open offices are for
Everyone is in it together with an open layout, making it an ideal choice for startups and fast-moving companies that prioritize group work, open communication and flat organizational hierarchies.

In our research, we found that younger employees tend to appreciate the community open offices foster more than their older colleagues. In fact, 52% said they preferred open office layouts over closed workspaces due to the sense of community they felt with their colleagues.

The benefits of open offices
Open offices can be an excellent way to inspire collaboration, which ranks as the number one reason most people want to go back to the office. This positions open offices well for a post-COVID-19 work world — assuming they're safely designed, of course. These spaces also often feature more natural light, a top office perk, due to a lack of walls and partitions.
Common problems with open offices
Open office layouts have long been the subject of intense criticism. They're often knocked for being too noisy (i.e., bad acoustics) and for their general lack of privacy. Some workplace designers are incorporating acoustic baffling to dull ambient noise to — and offering private phone rooms and workspaces to help employees.
But the bigger problem is making open office layouts safe and appealing in a post-COVID-19 world. Some companies are looking to enable dedicated desks, spaced accordingly, across open office floor plans. Others are partitioning open offices to offer employees personal space — and using signage to encourage social distancing.
(Find out how to get rid of office noise in your own workspace — and how to design more quiet office plans.)
The benefits of hybrid office designs
Hybrid office layouts feature a mix of personal work booths, shared open spaces and private offices. These workspace layouts have been popular among employees due to their ability to combine the best elements of open workspaces — increased communication and collaboration — with private spaces and offices for more focused individual work.
Who hybrid offices are for
Hybrid office layouts are ideal for companies with a wide range of employee needs or that have teams clusters that need increased privacy. Some companies may also want to offer a variety of areas to help their employees work more effectively such as collaboration spaces, huddle rooms and work lounges.
The benefits of hybrid offices
Hybrid office layouts create a collaborative community in an environment that supports the different ways people work. Thanks to private spaces for heads-down work, open spaces for collaboration and plenty of partitions for privacy, hybrid office layouts have the unique benefit of meeting many needs at once and providing employees with one of the biggest workplace inspiration boosters: the flexibility to change their working environment throughout the day.
Common problems with hybrid offices
While a hybrid office layout can provide the best of open office planning and private workspaces, it can sometimes be difficult to seat people in the right places. A seating arrangement shouldn't simply reflect your organization hierarchy but should instead strategically place people and teams together to make collaboration easy.
This is particularly true in a post-COVID-19 world where people are poised to go into the office less and search out ways to maximize collaboration when they are in the office. Some companies have sought to solve this problem by incorporate office hoteling, or hot desking, allowing employees to choose their workspace.  
Hybrid office layouts can also reinforce negative workplace hierarchies and make open-space workers feel less valued than their private office counterparts.  
What a closed office design is and why it's beneficial
Closed offices are all about creating privacy through closed-off workspaces and quiet spots for heads-down work. These layouts often use partitions to create a separate office space for every employee in an office. Through the combination of private offices and partitioned workspaces, closed office designs seek to offer everyone privacy and a quiet space to work.
Who closed offices are for
Closed office designs are favored by large organizations such as financial service companies with individuals or teams that require privacy and dedicated private office space.  
The benefits of closed offices
The best closed office and private office designs combine private spaces with collaborative places for group efforts such as meeting rooms and communal areas. Unlike the open office layout, closed office designs can minimize workplace noise and distraction, ensuring more focused work.

People consistently cite private and quiet areas to the work as the biggest factors in determining their productivity. Almost 70% of our survey respondents told us private phone and focus rooms are valuable in the workplace — but just 22% have access to them.
Common problems with closed offices
Closed office layouts often suffer from a lack of flexibility, which makes it harder to scale these office plans to match organizational growth. These spaces can also hinder collaborative work and lead to workplace silos between colleagues and teams.
The bottom line
Despite COVID-19, enterprise companies are still investing in office space — and people expect to go back to them, at least part of the time moving forward.
Case in point: Amazon is in the midst of building 900,000 square feet of office space and Facebook is expanding its New York City footprint by 730,000 square feet.
But COVID-19 will have an impact on office design, which was already something almost half of job seekers said mattered to them before the pandemic.
Ultimately, when it comes to workplace design, people want more options, not fewer. The top perks that employees want include natural light, quiet and private spaces, ergonomic furniture and the flexibility to move around — and those demands are likely to become more pronounced after COVID-19.
Here are three things to consider when thinking about office space works best for you and your team:
Flexibility is key: The best offices prioritize flexibility with multiple workspaces designed for different parts of the workday such as open lounges for collaborative work, private spaces for heads-down work, meeting rooms for group sessions, etc.


Acoustic comfort is critical: Your office can be the most Instagrammable space around, but if you don't pay attention to acoustics … well, it's going to be a bad workplace experience. There are a variety of solutions that range from sound masking technology to acoustic baffling to mitigate sound transfer.


Private workspaces make a huge difference: Open floor plans have their benefits, but privacy is not one of them. Study after study shows people do their best work when they have a private space where they can shut the door and focus — and people's comfort levels with returning to the office after COVID-19 depend, in part, on having enough personal space to feel safe. Whether you have an open office or a coworking space, think about how to build in private spaces where your team members can use for focused work
For more information on all things flex, check out our complete guide to flexible workspaces.